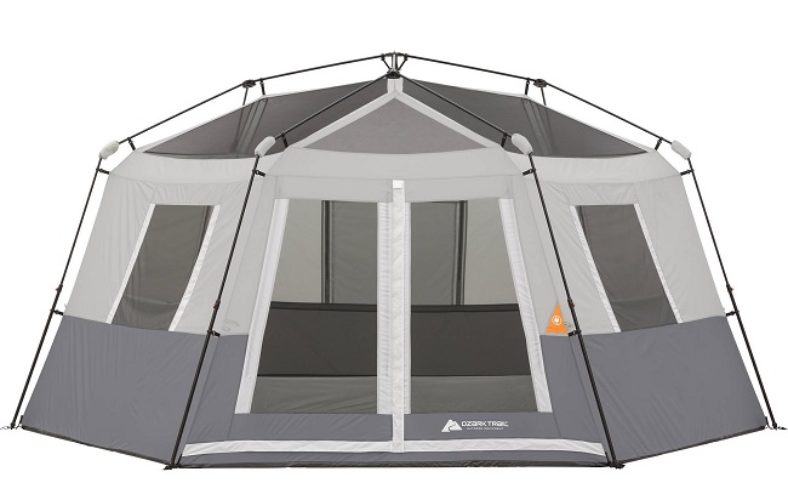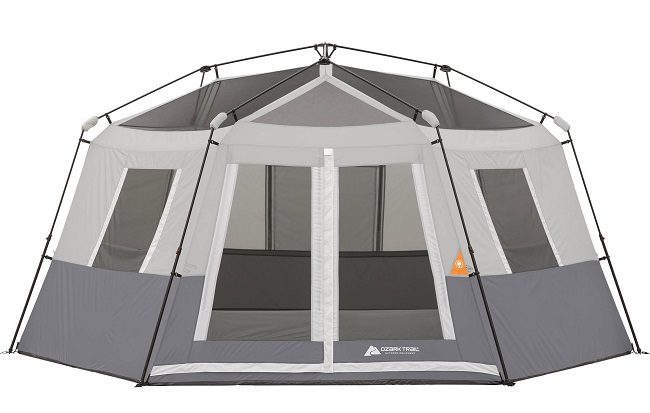 The Ozark Trail 8-Person Instant Hexagon Cabin Tent is an excellent option for large families or friends that sleeps up to 8 people. This 3-season tent sets up in 2 minutes or less and features 7 windows for superior ventilation and views. The mesh roof also makes it perfect for stargazing on clear nights.
Comfort and Space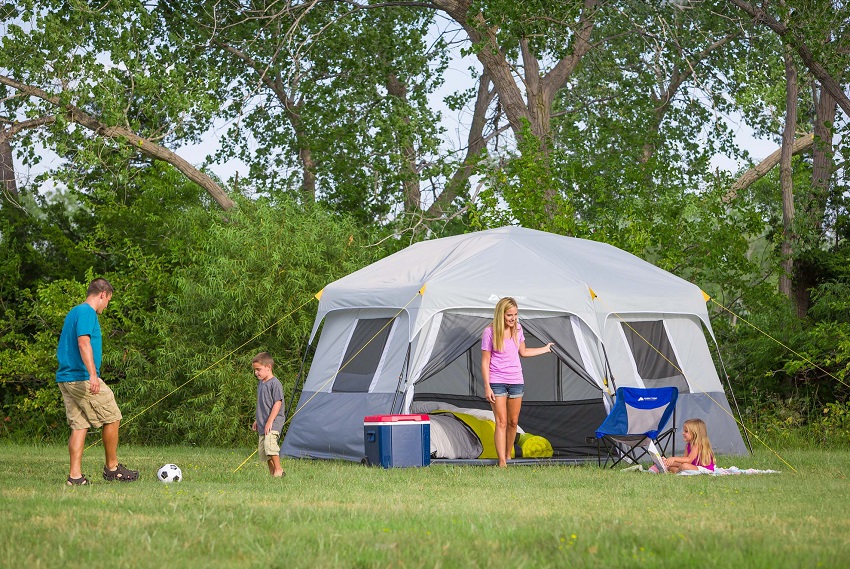 The Ozark Trail 8-Person Hexagon Tent is the ideal choice for large groups who want a comfortable, spacious layout. This tent sleeps up to 8 people and features plenty of hanging storage spaces for gear. The cabin-style design makes it easy to set up and take down, and the rainfly provides extra weather protection.
Floor Space
Having enough space to sleep comfortably is important when camping. Luckily, the Ozark Trail 8-Person Hexagon Cabin Tent has just this. The floorplan is 15′ x 13′ (4.57 m x 3.96 m), which works out to be 195 square feet (18 sq m). This tent comfortably fits up to 8 campers on sleeping pads.
You can easily fit 2 queen-sized air mattresses inside the tent, plus have space for your gear and walking around.
Head/Shoulder Room
The Hexagon Cabin Tent offers ample headroom. The tent features a center height of 80 inches (203.2 cm). Tall campers can walk around comfortably without worrying about bumping their heads. Sitting up is made easy in this tent due to the ample space. 
RELATED: Best Tall Camping Tents: Stand Up Tents for Tall People
The Ozark Trail 8-Person Instant Hexagon Cabin Tent has 6 walls, including the door area. It is a cabin tent that offers many pros. One advantage of a cabin tent is that they are typically large enough to accommodate a family or group of friends together with their gear.
One con for cabin tents is that they may not perform as well in inclement weather as other tents do.
Rooms/Vestibules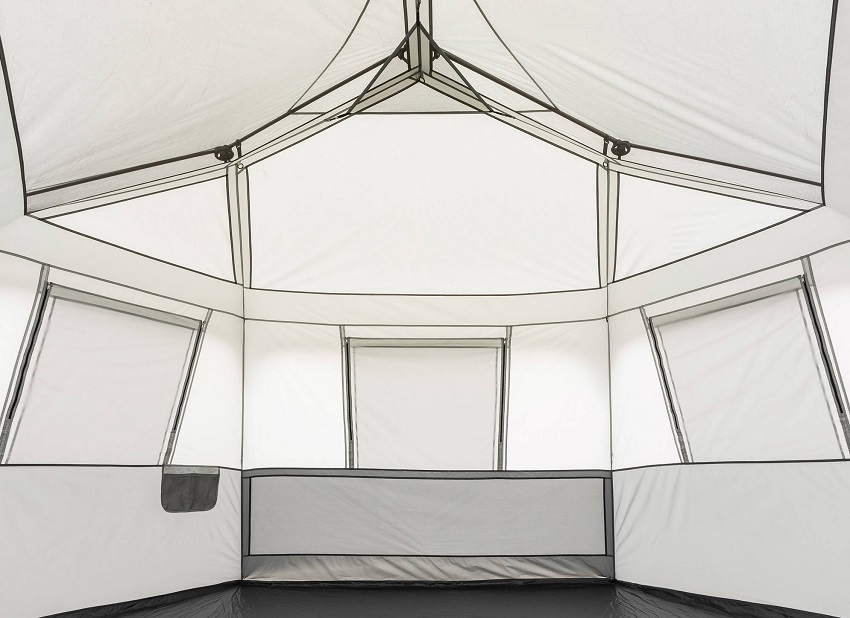 The Ozark Trail 8-Person Instant Hexagon Cabin Tent is a single-room tent with a double-door entrance. Double-door tents offer several advantages over traditional designs. For one, they provide easier access to the tent's interior, making it more straightforward to set up camp.
Additionally, the extra door can provide ventilation on hot days, helping to keep campers cool and comfortable.
This tent does not offer a vestibule or screen porch, but there is plenty of room to store your gear inside the main compartment. 
Storage
There is plenty of storage options inside the Ozark Trail 8-Person Instant Hexagon Cabin Tent. This tent offers a built-in gear loft where you can store the possessions that you need to access quickly.
The tent provides 2 built-in pockets on opposite sides. On one side of the tent, there are 4 separate pockets: 2 mesh pockets that can easily hold your phone and wallet, one mesh pocket that holds bottles, and another one for items that need to be stored fully enclosed.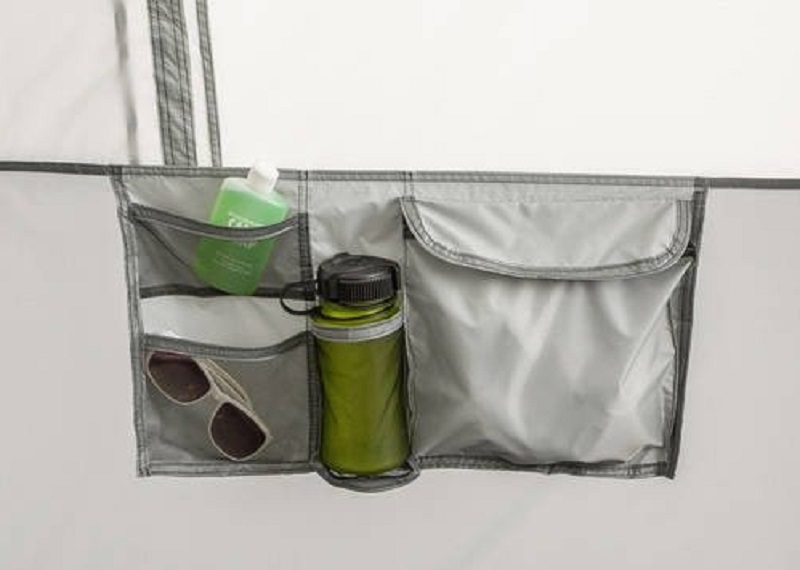 There are multiple spots in the tent where you can hang your items. There are hanging attachments in all corners of the tent and in the middle. The middle hanger is perfect for hanging up a lantern or a flashlight.
The tent offers a color-coded electrical port. This port makes it easy to connect your tent to a power source, whether using a generator or hooking up to a campground's electrical system. The port is also labeled with an icon so you can quickly identify it.
Breathability and Ventilation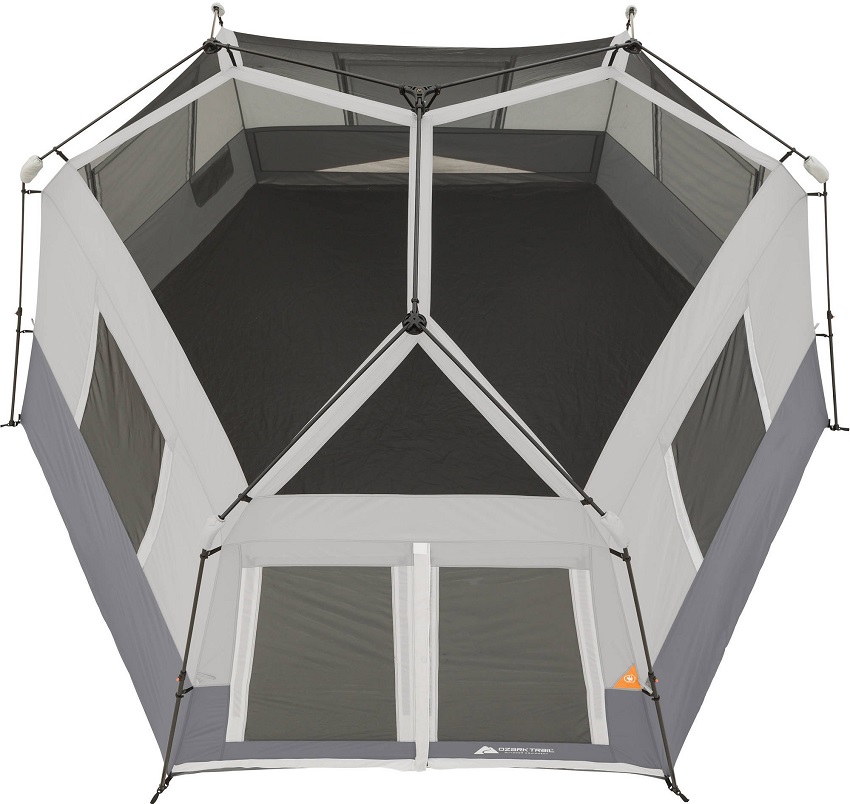 The Ozark Trail 8-Person Instant Hexagon Cabin Tent has 7 windows. There is one on each wall plus 2 on each door of the tent. These windows all have a mesh covering to help keep bugs out. The windows are perfect for breathability and ventilation.
The air vent on the bottom of the tent helps to keep the tent cool and comfortable in hot weather.
The top of the tent is covered with mesh, allowing you to enjoy the stars on a clear night while being protected from insects.
Weather Resistance
The Cabin tent has factory-sealed seams, a zippered door with velcro for added weather resistance, and fully zippered windows. The rainfly does not offer full coverage, but it does cover the top of the tent to provide some protection from the elements. The Ozark Trail 8-Person Instant Hexagon Cabin Tent is not meant for use in inclement weather and should only be used in mild conditions.
Durability
The tent's walls are made from polyester. The polyester is treated to be waterproof and keep the rain out. The mesh panels that line the windows, ceiling, and doors will help keep insects out. The tent's floor is made from polyethylene, making it durable and easy to clean.
Ease of Use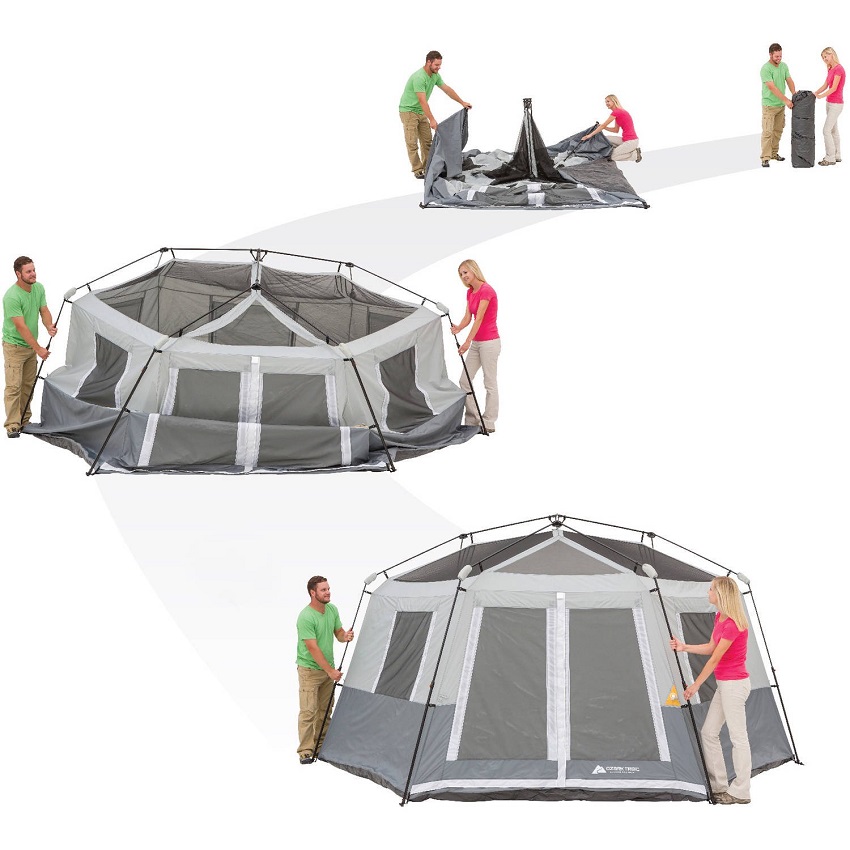 When planning a camping trip, the last thing you want to worry about is whether or not your tent will be easy to set up. The Ozark Trail 8-Person Instant Hexagon Cabin Tent can be set up in two minutes or less by two people. This means you can spend less time setting up the tent and more time enjoying the outdoors. 
ALSO SEE: Best Instant Tents: Easy Set Up Tents For Camping
The poles are pre-attached, so all you have to do is unfold and extend them. And when you are ready to take down the tent, press the buttons on the poles to retract them.
The tent comes with 13 tent stakes made of steel for added stability.
Packed Size and Weight,
The cabin tent is made from lightweight, waterproof fabric and can be easily packed into a small bag, making it an ideal choice for camping trips. However, the tent may be difficult to store due to its packed size.
The Ozark Trail 8-Person Instant Hexagon Cabin Tent weighs 41.36 pounds (18.76 kg) and when packed up in the bag, is 42.1" x 12.1" x 11.8" (106.93 cm x 30.73 cm x 29.97 cm).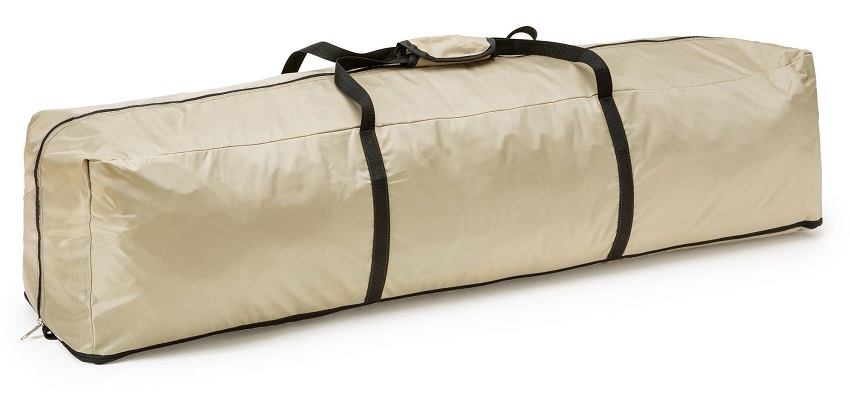 A comparable model to the Ozark Trail 8-Person Instant Hexagon Cabin Tent is the Ozark Trail 17′ x 15′ 11-Person Instant Hexagon Cabin Tent. Both are hexagon-shaped and can be set up quickly and easily, thanks to the pre-attached poles. However, there are a few differences that need to be taken into consideration before buying the tent.
Both tents have an impressive floor size; however, depending on the size of your family or friends, the floor space may make a difference. The 11-person tent has a floor space of 255 square feet, whereas the 8-person tent's floor space is 195 square feet. This creates a difference between being able to fit two queen-sized air mattresses in the tent and 3 air mattresses.
Another key difference is the center height. The 11-person tent is 2 inches taller than the 8-person one, which may make the difference if you are taller and do not want to hit your head while walking around at night. Both tents are similar in material and structure.
There are many different and similar aspects to consider when deciding which tent is the best for your situation, and the decision is yours. 
See full model lineup of Ozark Tail tents here.
Pros and Cons
Pros
Color-coded e-port for electrical cord access
7 windows for excellent ventilation
Mesh ceiling for star gazing on clear nights
Large, spacious tent
Cons
Rain may get under the rainfly
Oversized stitching is not fully waterproof
Rating
| | |
| --- | --- |
| Comfort and Space | 9 |
| Weather Resistance | 7 |
| Durability | 8 |
| Ease of Setup | 8 |
| Size and Weight | 7 |