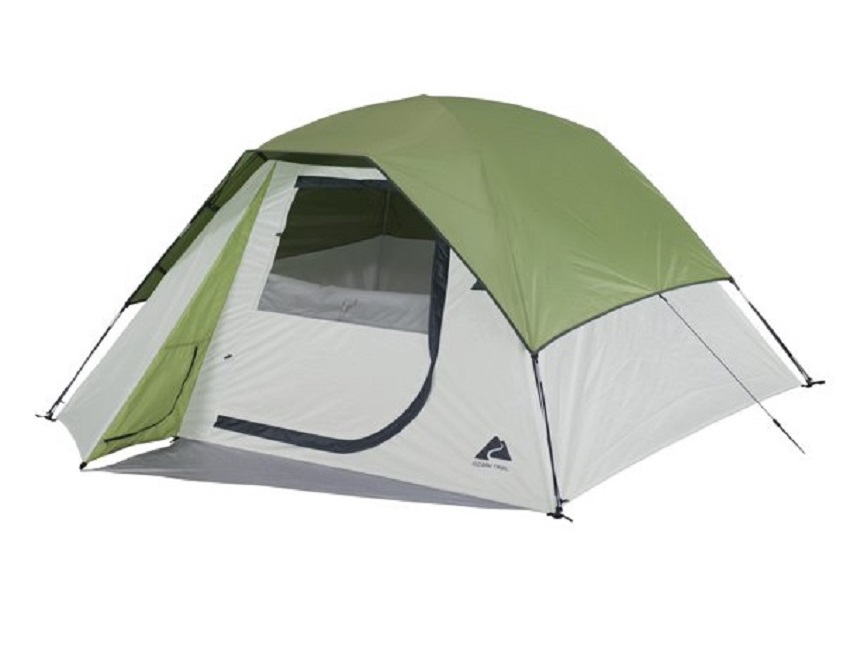 The Ozark Trail 4-Person Clip & Camp Dome Tent is ideal for all of your outdoor activities, especially in good weather. Easily assembled, durable, and spacious, this tent will comfortably fit a queen-sized mattress and still leave extra room for your gear.
Comfort and Space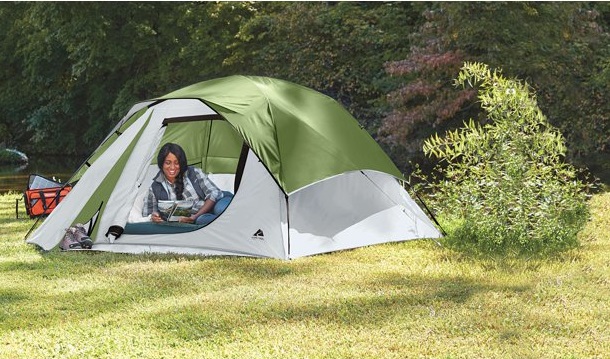 The floor space of the Ozark Trail 4-Person Clip & Camp Dome Tent is 63 square feet (5.8 square meters) and can hold four people without feeling too squished. 
The peak height of this tent is 5 feet (1.5 meters) with sloped walls, allowing for plenty of sleeping room and enough space for chatting, playing games, and generally hanging out if the weather takes a turn.
The tent has one single room, no vestibule, and a convenient shoe cubby hole located directly outside the front door.
It is simple to get to from both the outside and the inside. Once inside the tent, there are numerous small storage pockets to stash your knick-knacks close at hand so you can quickly get to them without disrupting the rest of your company.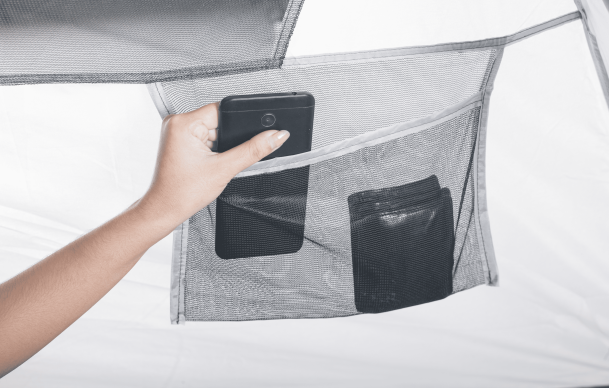 Dome tents are probably the most common type of tent design these days. They are supported by two, sometimes three collapsible poles and do not require guylines to keep the tent stable.
These dome tents are very stable in windy conditions, but typically less useable space than other types of tents due to their sloping walls.
In addition, dome tents are easier to set up than other types of tents. The simple design means that you can set up the tent quickly and easily, even if you have never done it before. This is a great benefit if you are new to camping or don't have a lot of experience setting up tents.
Breathability and Ventilation
The roll-up single large D-shaped door provides excellent ventilation as well as makes it easy to get in and out. A window ensures constant airflow, while the tent's canopy made of mesh and fabric maximizes the ventilation when used without the rainfly.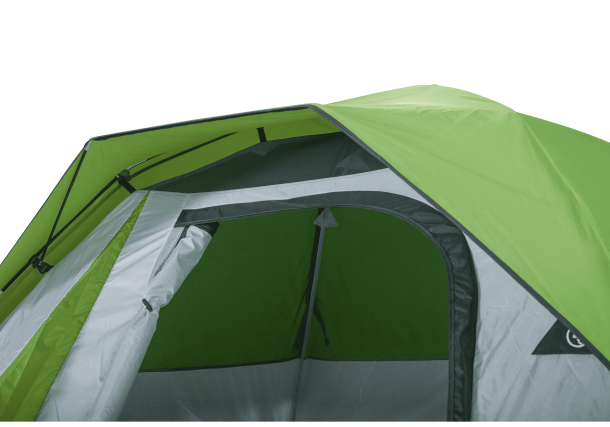 Like many other tents, you can sleep without the rainfly in good weather and look up at the stars, yet be protected from bug invasions by the mesh.
The Ozark Trail 4-Person Clip & Camp Dome Tent comes with a detachable rainfly that is seam-taped for extra water resistance. 
The rainfly also protects the awning above the door and can be rolled up any way you want to control the airflow.
Weather Resistance
The Ozark Trail 4-Person Clip & Camp Dome Tent is a fair-weather friend that will do well in good weather.
However, with downpouring rains and strong winds, the tent's waterproofing and sturdiness might be put to the test.
The thin floor material doesn't repel excessive amounts of water that well, although it will still keep you dry in light rain.
In strong winds, however, the poles are not that sturdy compared to higher quality tents and have been known to warp and bend.
Durability
The Ozark Trail 4-Person Clip & Camp Dome Tent has a high-quality canopy made with a generous amount of mesh netting.
This significantly improves the breathability of the tent, yet still keeps the creepy crawlies out.
The seam-taped rain fly portion of the tent has good separation from the main tent material, nearly a 2-inch space for airflow and leak prevention.
When it comes to choosing materials for your tent poles, there are a few options to choose from. Fiberglass is typically used as a more affordable choice while aluminum is used for tents that are more high-end.
While fiberglass is lighter and less prone to corrosion, it is significantly less durable than aluminum, make these poles less tolerant of strong winds and inclement weather.
Ease of Use
All of the parts for the Ozark Trail 4-Person Clip & Camp Dome Tent (the collapsible poles, rainfly, accessories, and the tent itself) are contained in a single convenient carry bag.
Setting up this tent is a breeze! Here's how you do it:
To begin, lay the tent body flat on the ground. The tent's corners can then be staked out with the included stakes. As a result, the tent will remain stationary while you set it up.
Next, insert the poles into the sleeves that are located on top of the tent body. The poles can then be brought down toward the corner and attached to the ring pin.
The tent body also has plastic clips. These can be used to secure the body to the poles and create a stable frame.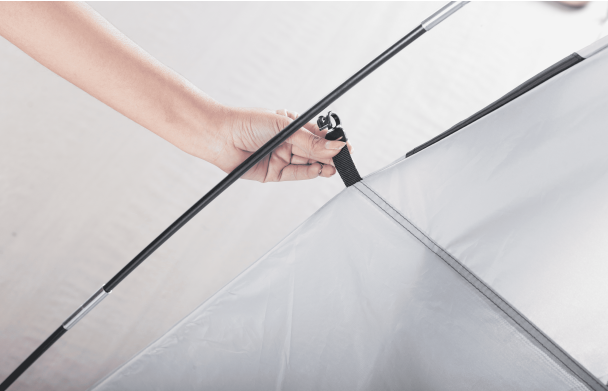 The tent has guyline points, which provide good stability.
It doesn't take long to set up the tent once you have inserted the poles into the sleeve. This 4-person tent can be set up by yourself, but two is better.
Packed Size and Weight
The packed size of the Ozark Trail 4-Person Clip & Camp Dome Tent is 22.75″ x 4.6″ x 8.6″ (57 x 11.6 x 21.8 centimeters) and the weight is 7.87 lbs (3.5 kg) which is an excellent weight for a tent this size.
It wouldn't be something you're hauling through the Pacific Crest Trail, but for the casual camper or someone that can drive to a campsite, the extra weight can easily be managed.
This tent weighs almost two pounds less than the Kelty Night Owl Backpacking and Camping Tent for 4 people which weighs 10 lbs.
Easily set up, taken down, and stored, the Ozark Trail 4-Person Clip & Camp Dome Tent can be easily packed and takes up very little room.
ALSO SEE: Ozark Trail Tents: Full Model Lineup and Reviews
Pros and Cons
Pros
Roomy and spacious
Setup is simple and quick
There is plenty of ventilation
Holder for shoes
Excellent family tent
Cons
There is no vestibule
Has been known to leak in heavy storms
Not the one to take in extreme weather conditions!
Rating
| | |
| --- | --- |
| Comfort and Space | 8/10 |
| Weather Resistance | 6/10 |
| Durability | 7/10 |
| Ease of Setup | 8/10 |
| Size and Weight | 9/10 |