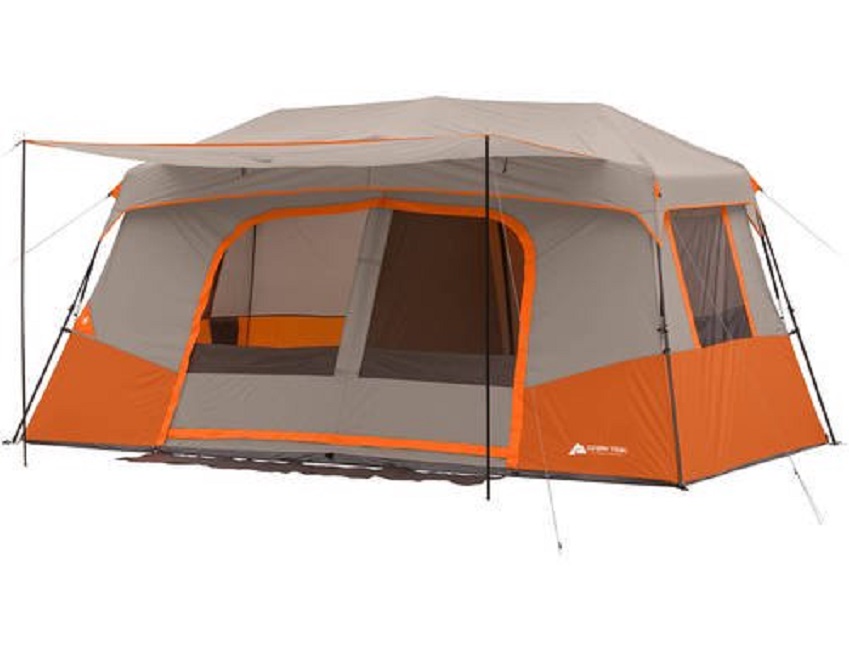 The Ozark Trail 11 Person 3 Room Instant Cabin tent is a family car camping tent that boasts a large interior, 3-season reliability, and an easy setup. The "instant cabin" design claims to allow users to set up the tent in 2 minutes or less, all while sleeping up to 11 people.
Comfort and Space
The Ozark trail 11-person instant cabin tent claims to split into 3 rooms and sleep 11 people, but how much is actually realistic? Here's what we found out:
Floor Space
This Ozark trail instant cabin tent has 14' x 14' (4.2 m x 4.2 m) of floor space when measured from the widest points, for a total of 196 sq. ft. (18.2 sqm) of space. 14' x 8' (4.2 m x 2.4 m) of this space is in the main cabin, and 8' x 6' (2.4 m x 1.8 m) is in the side room.
According to Walmart, which owns the Ozark Trail Brand, the "sleeps 11 people" claim comes from sleeping eight in the main cabin and three in the private room.
If you're familiar with manufacturers' maximum capacity claims, you'll know that this isn't very realistic. With mattresses or sleeping pads, you likely wouldn't want to sleep more than 8 people max in this tent, and that would be tight if they were all adults.
Head/Shoulder room
This main area of the Ozark Trail 11-person cabin tent has a 76" (6'4", or 193 cm) center height – which is fairly consistent throughout the main cabin, with a slight slope towards the ends. Tall campers might feel cramped in the corners when standing up, but overall it has plenty of headroom.
The attached side room is similar to dome tents and is significantly shorter. The opening begins at 62" (5'2" or 157.5 cm) and rapidly tapers down to 56" (4'8" or 142 cm). Great for kids or sleeping – but not enough to stand up in.
Rooms/Vestibules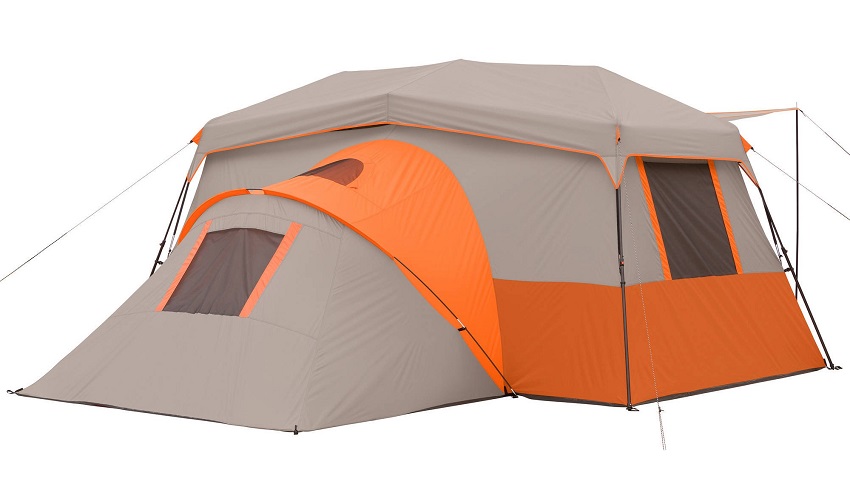 The Ozark Trail 11-person cabin tent technically has three rooms, with a large main cabin that can be divided into two rooms and one separate dome-shaped room attached.
Two doors on the front that can zip up individually to keep the main cabin rooms separated as well.
The room divider for the main cabin is attached by hooks, and the side room has a permanent door that zips closed.
The main cabin divider is not snugly attached to the walls or roof of the tent – so it's more like a privacy divider than a truly separate room. There will be gaps along the walls around this divider.
The odd layout of this tent also leads to a potential bedding challenge: realistically you can only fit two queen air mattresses into the tent – one fewer than smaller versions such as the Ozark Trail 10-person tent.
It also has a covered porch area at the front of the tent and an e-port to bring electricity into the tent if that's an option at your campsite.
Breathability and Ventilation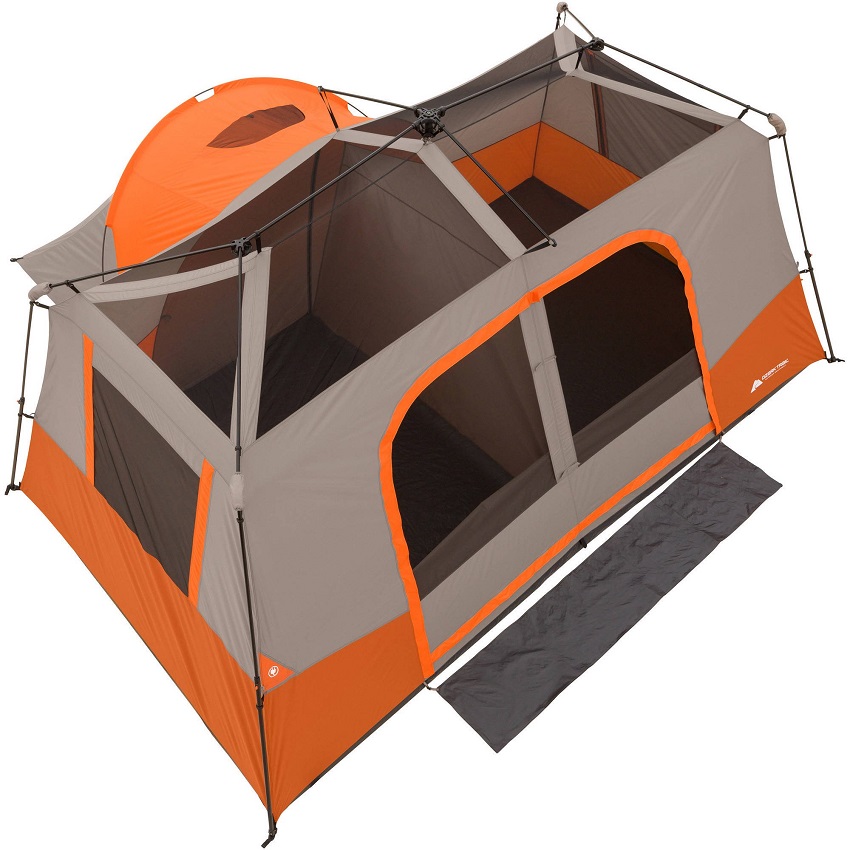 The Ozark Trail 11-person instant cabin rates well in terms of breathability. It has 6 large windows (two on the front, one on each side, and two in the back room), and an entirely mesh ceiling.
However, there are no floor vents for additional ventilation, which would be a nice addition to keep airflow at night with closed windows. With the rainfly and all windows closed, it might get a little stuffy on warm, muggy days.
Weather Resistance
The tent uses a single-layer polyester material for the majority of the rainfly and tent siding, and mesh for the ceiling, so the rainfly is essential if you're expecting rain.
Most users don't have any issues with leaks and report the tent withstanding wind gusts up to 40mph.
There have been some issues reported with the add-on room, including tears and leaks, so be sure to check your tent for any of these issues before camping.
The Ozark Trail 11-person instant cabin tent also comes with a mud mat to roll out front under your awning, which helps keep mud and dirt outside.
Durability
The majority of the poles for this tent are made of steel, instead of the usual fiberglass or aluminum. This is because almost all the poles are straight – they don't need to flex like the poles in a dome tent. The one exception to this is the single pole in the back room – that pole is fiberglass, similar to a dome tent.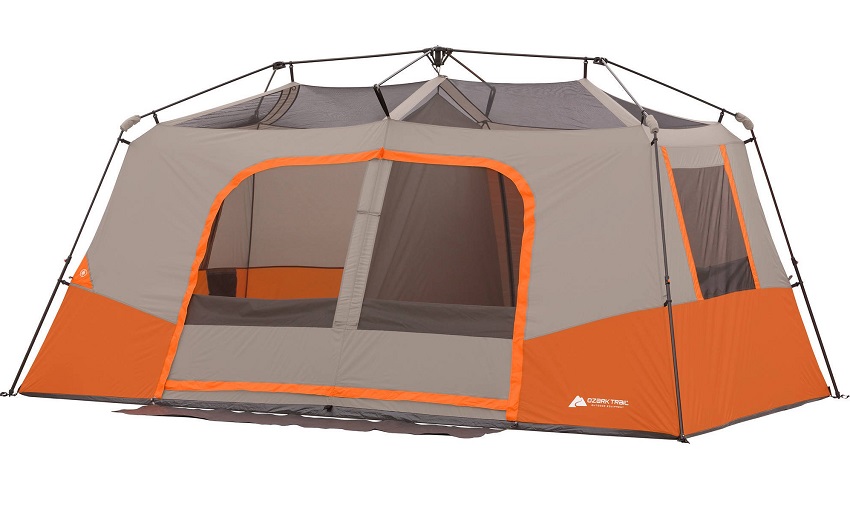 Steel poles should be quite durable, but the plastic connections and clips are a common failure point, especially in tents that spend a lot of time in the sun. The polyester siding and mesh canopy are fairly standard materials for tents of this style – but you'll want to be careful with the meshing to prevent any tears.
Ease of Use
This Ozark trail 11-person cabin tent is marketed as an "instant setup and takedown" tent, which means most of the poles and clips are already attached. You just need to pull the sides out and voila, your tent is up.
If you've ever set up an "Ez-Up" tent, it's a similar process, just with a few more steps.
That being said, some users report issues with the setup during their first time assembling the tent, so you'll probably want to allow 10-15 minutes the first time you use it. After your first assembly, it should go up easy.
The manufacturer claims this tent will go up in 2 minutes or less, In practice, it's more like 5 or 10 minutes.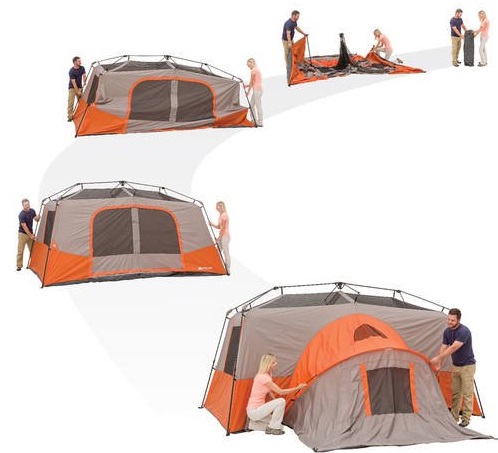 Here's how to set up the Ozark Trail 11-person tent:
Find a wide-open space at least 14' x 14'
Pull out the tent and lay it flat
Prop up the legs and lock them in
Attach the rainfly and final pole for the attached room.
If you're quick you might get it done in 2 minutes, but in reality, it generally takes a bit longer.
Packed Size and Weight
The Ozark Trail 11-person instant cabin weighs 38.37 pounds (17.4 kg) and is 29.6 x 11.8 x 11.8 inches (75.1 x 30 x 30 cm) when packed into its carrying bag.
While the packed size isn't too large, this is almost 10lbs heavier than the 10-person Ozark Trail tent. The steel poles add a significant amount of weight to this tent, so you definitely won't want to be lugging it around very far.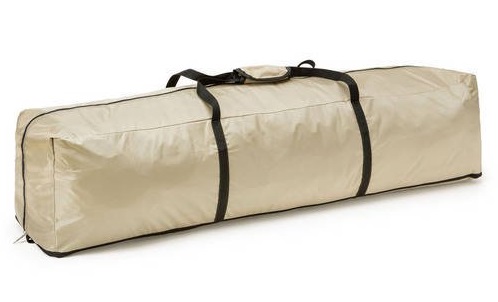 Pros and Cons
Pros
Quick and easy to set up – no fiddling with poles
Reasonably priced, especially when on sale
Spacious for families of 4 or 5 campers
Plenty of headroom
Cons
Despite having more square footage, can fit fewer mattresses than similar tents due to layout
Lacks common ventilation features and gear storage compartments
Very heavy, uses steel poles that won't be easy to replace
Cheaper materials used for construction
Center cabin divider is really just a privacy screen – not a separate room
Rating
| | |
| --- | --- |
| Comfort and Space | 8 |
| Weather Resistance | 7 |
| Durability | 8 |
| Ease of Setup | 9 |
| Size and Weight | 4 |