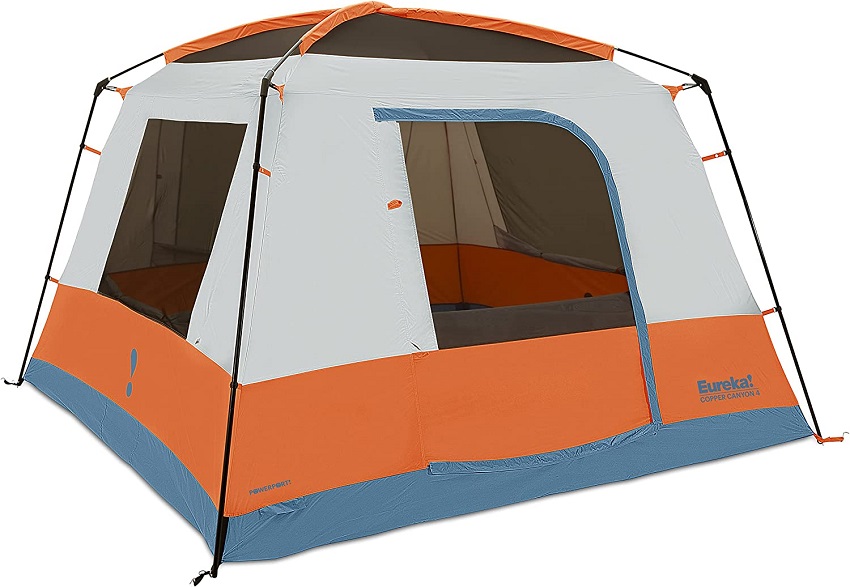 If you like family camping with loads of space, the Eureka Copper Canyon LX 4 person tent is a 3-season camping tent that offers a lot of standing room, incredible peak height, and roomy floor space.
Comfort and Space
The Eureka Copper Canyon LX 4 person tent is all about the standing room. With an amazing 84 inches (213.4 cm) interior peak height, you can stand in it comfortably no matter how tall you are, and you won't be hunching down to get in or out, unlike many of the other 4-person tents in the market.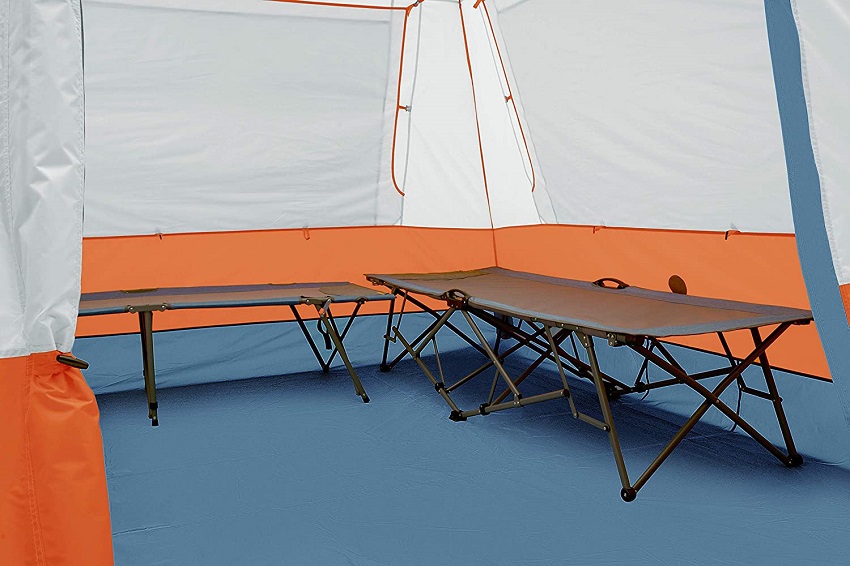 The floor size is 96 X 96 inches (243.8 cm x 243.8 cm), which gives you a generous floor area of 64 square feet (6 sq meters). Eureka tents are known to be roomy, and when they say "4-person", they actually mean four, and not 3 persons and a dog!
Since it's a cabin tent, its walls are nearly straight, allowing for more headroom and family-friendly living space. 
ALSO SEE: Best Tall Camping Tents: Stand Up Tents for Tall People
Everyone can sit or stand in the single room during the day or on rainy nights without feeling cramped. You can also have four sleeping pads comfortably side by side without sacrificing too much shoulder room.
The tent has no vestibules. Instead, there's a dry-entry area from the extended rainfly coverage, 2 storage pockets, and a roof loft that can keep small belongings in your reaching space.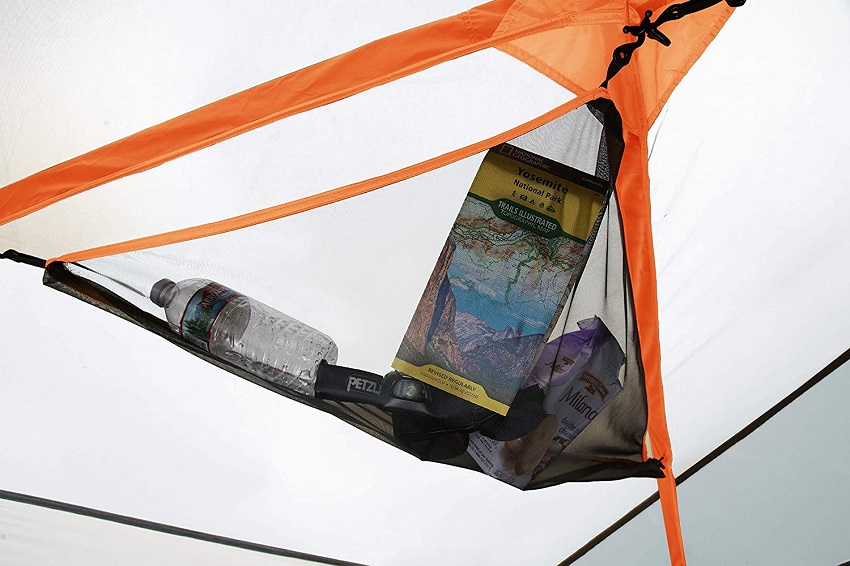 Another extra feature is an E-power port. It is a small zippered opening in the tent wall that allows you to connect an electric cord from outside the tent without keeping the tent door open.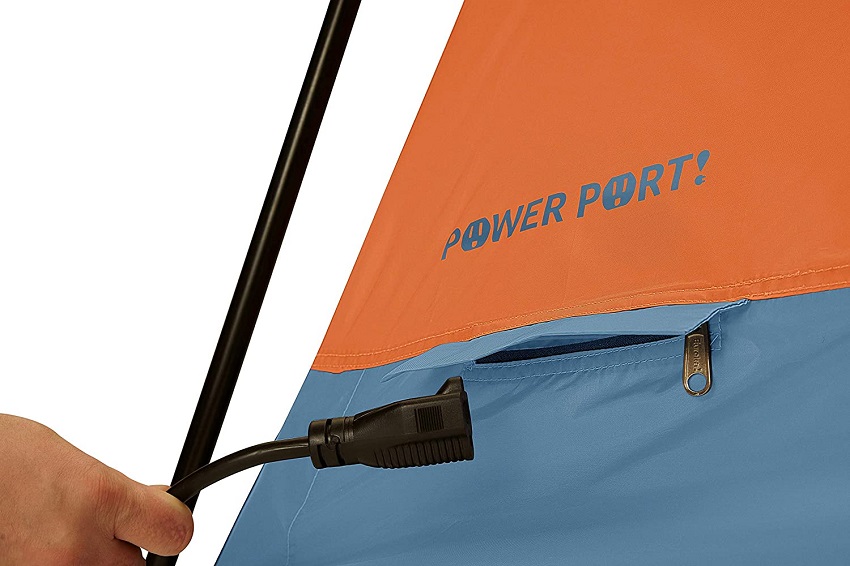 Breathability and Ventilation
With three windows, one massive door, and 68D polyester no-see-um mesh, the Eureka Copper Canyon LX 4 person tent allows for excellent ventilation and a bug-free interior.
Everyone stays cool even in hot weather, and you can leave the weatherproof curtains down for maximum airflow, even in light rain, as the extended fly coverage will keep the main door area dry.
Weather Resistance
Since the Eureka Copper Canyon LX 4 person tent is a cabin tent, it's not windy camping's best friend.
The sturdy steel frame plays a significant role in keeping the tent standing up in storms and rains, but it can be uncomfortable on the windiest of nights because of the sound of the wind thrashing onto the tent.
Make sure to secure the guylines on windy nights to ensure your tent stays where it needs to.
The rainfly is 75-denier polyester taffeta with a 1200 mm waterproof coating and it does a stellar job in keeping out the rain. However, the floor fabric feels thin so for some extra protection, you might want to lay a tarp or footprint between the tent and the ground.
Nevertheless, the rainfly proved adequate in protecting the tent from getting wet during rainy and stormy days and nights, and the extended coverage over the main entrance does a good job in keeping the water out of the main door area.
Durability
The tent body, rainfly, and floor fabric are made out of 75-denier polyester taffeta with a 1200 waterproof coating.
The mesh is made of polyester no-see-um mesh which acts as an insect screen, meaning that it won't let any bug in, no matter how small to enter the tent.
The main poles are made of sturdy 19 mm steel and the secondary fly poles are 12.7 mm fiberglass.
Steel is an extremely hardy material for the poles but isn't the lightest nor the cheapest. Fiberglass, on the other hand, is more affordable than steel and aluminum but tends to hold up less well in inclement weather.
Steel poles are characteristically used in heavy-duty large tents for greater stability in the frame, while fiberglass poles can be used in secondary poles that don't take the brunt of the weather beating.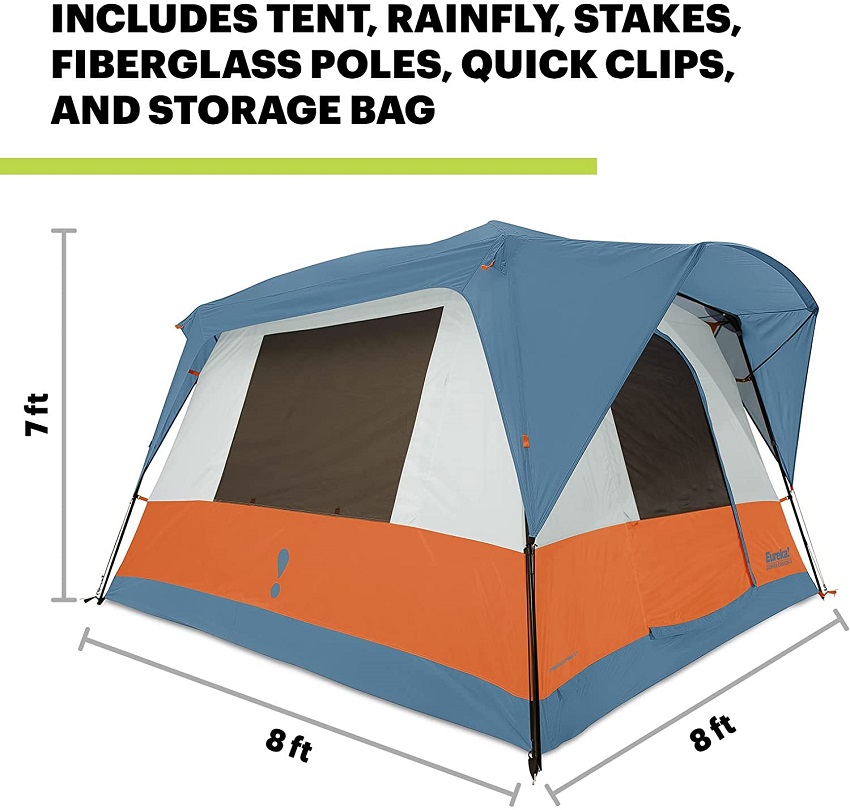 Ease of Use
Although it's a 4-person tent, the Eureka Copper Canyon LX 4 person tent can be easily set up by one person.
The setup is very easy compared to cabin tents, taking anywhere from 10 to 15 minutes. The poles are color-coded so you can easily distinguish the roof poles from the walls.
It has an internal frame and pole corner hubs, it is easy for one person to set up. The rainfly goes on fairly easier, although shorter people might have some trouble getting it lined up.
Another good thing about this tent is how easy you can pack it again in the bag. Everything fits perfectly and you don't need to do a lot of muscle work for it.
One drawback here is about the door, the door zipper doesn't open with one hand, so make sure you're not carrying many things while going into the tent or you'll have a hard time, and will probably cause the zipper to break.
Packed Size and Weight
Since the Eureka Copper Canyon LX 4 person tent is a cabin tent, it has more fabric and poles than dome tents, and tends to be bigger and heavier.
This tent's packed size is 9 x 27 inches (22.8 x 68 cm). It weighs about 20 pounds / 9 kg, a bit lighter than the 23 lbs / 10.4 kg for the 6-person Copper Canyon.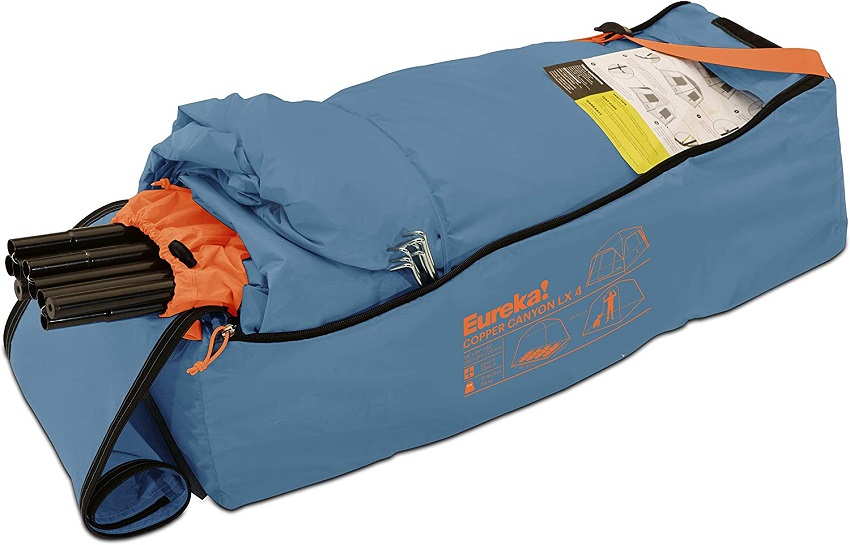 Similar tents include the Coleman Cabin 4-person tent at 23.3 lbs / 10.5 kg and the CORE 4-Person Straight Wall Cabin Tent at 13.4 lbs / 6kg.
All in all, this tent doesn't belong in your backpack. Save it for a car camping trip or a casual outing where you drive to the campsite, and it will do just fine.
Pros and Cons
Pros
Amazing headroom
Easy to set up
Easy to repack again
Zipper E-power port
Cons
Thin floor
Fabric feels thin
Not the lightest
Door needs two hands to operate
Rating
| | |
| --- | --- |
| Comfort and Space | 8 |
| Weather Resistance | 8 |
| Durability | 7 |
| Ease of Setup | 9 |
| Size and Weight | 8 |