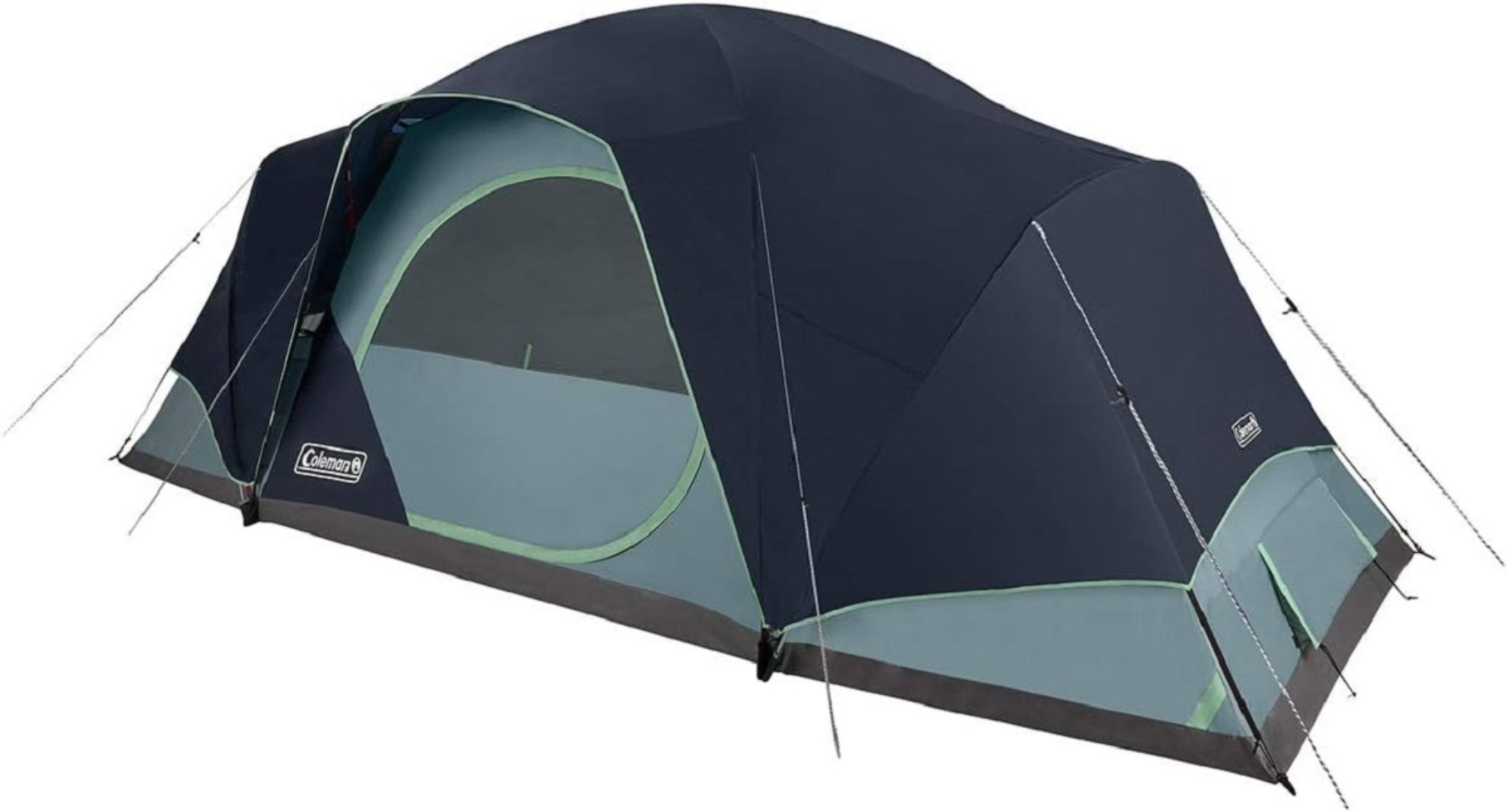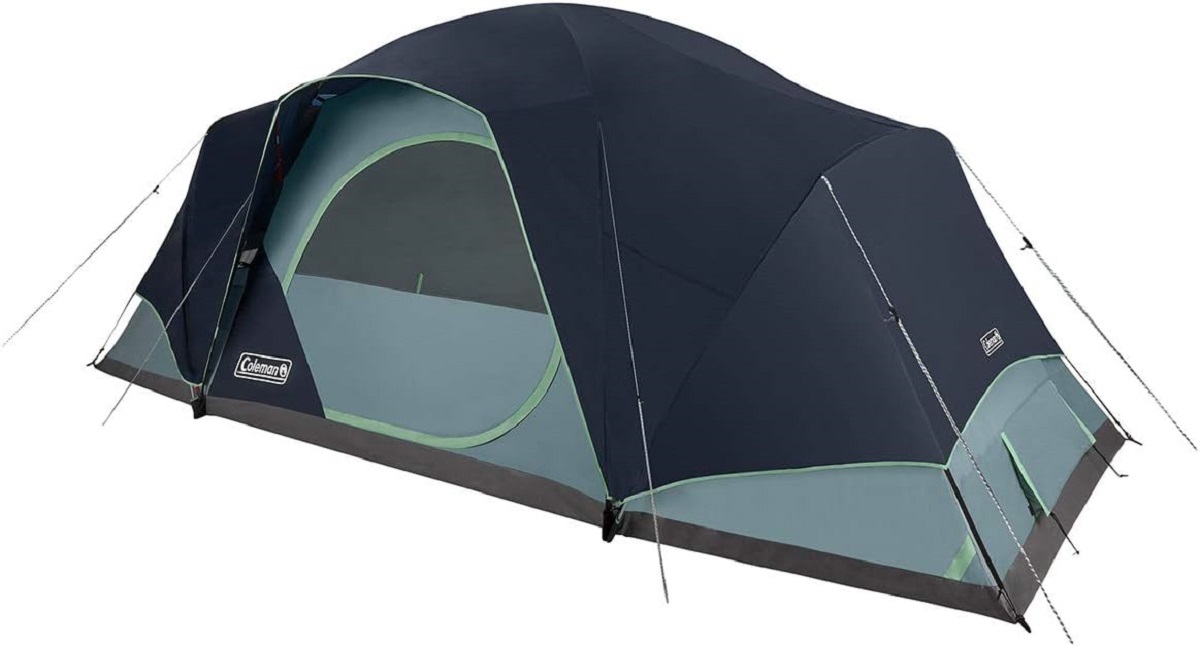 The largest model in the company's Skydome line-up, the Coleman Skydome 12-Person XL Tent is a popular shelter for large group summertime camping excursions. It boasts a cozy interior, an unbeatable lofty ceiling, and extra livability features to make your next trip to the campground as comfortable as can be.
Comfort and Space
When you camp in a large group, it's imperative that you have enough space to comfortably house everyone. This is what you can expect from the Coleman Skydome 12-Person XL Tent when you're at the campground.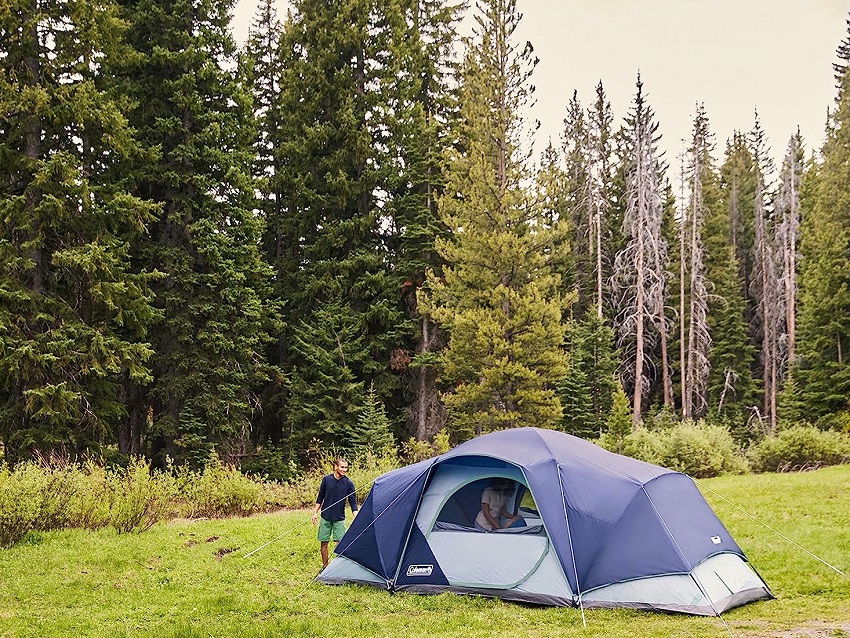 Floor Space
Simply put, the Coleman Skydome 12-Person XL is a large tent. It has a 20' (610 cm) by 9' (274 cm) floor plan that offers 180 square feet (16.7 sqm) of living space.
Most campers should find that they can fit 12 adults on their sleeping pads in this tent. Alternatively, you could fit approximately 4 queen-size air mattresses in this shelter.
Filling this tent to capacity, however, won't leave you much space inside for gear storage. Even though the 12-Person Skydome XL does have a set of mesh gear storage pockets, you won't have a lot of extra space for larger items, like backpacks, if you have 12 people in this tent.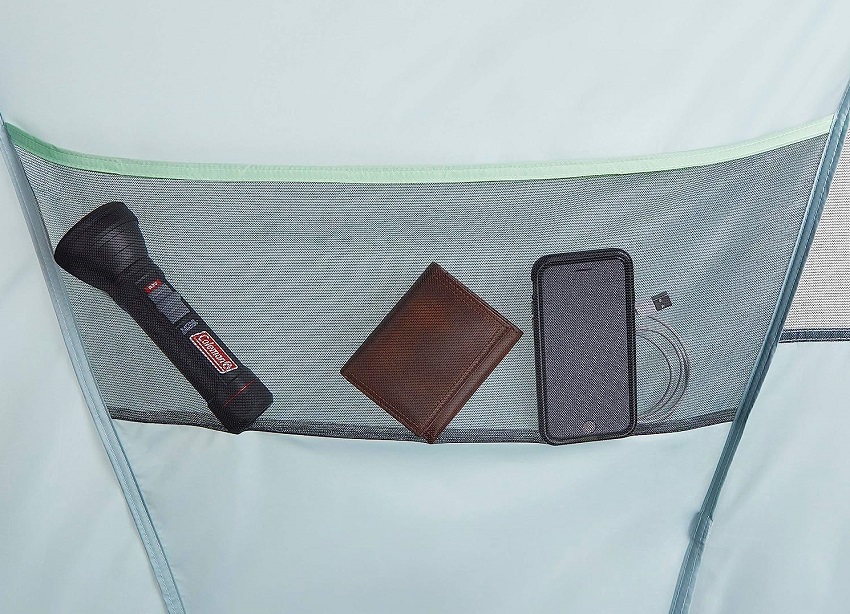 For glamping trips, this tent would be best for no more than about 8 people. Anyone that's okay with giving up a bit of gear storage space, though, will find that this tent can comfortably sleep up to 10 adults.
Head/Shoulder Room
If there's one area where the 12-Person Skydome XL is a true standout in its class, it's in terms of head and shoulder room. This tent features a peak height of 7' (213 cm), which should be tall enough for nearly all campers.
Even though this is a tunnel-style tent, Coleman also enhanced the headspace of the 12-Person Skydome XL by giving it near-vertical walls. These near-vertical walls provide you with extra headroom around the side of the tent, making it easier for you to walk around the shelter without brushing your head on the ceiling.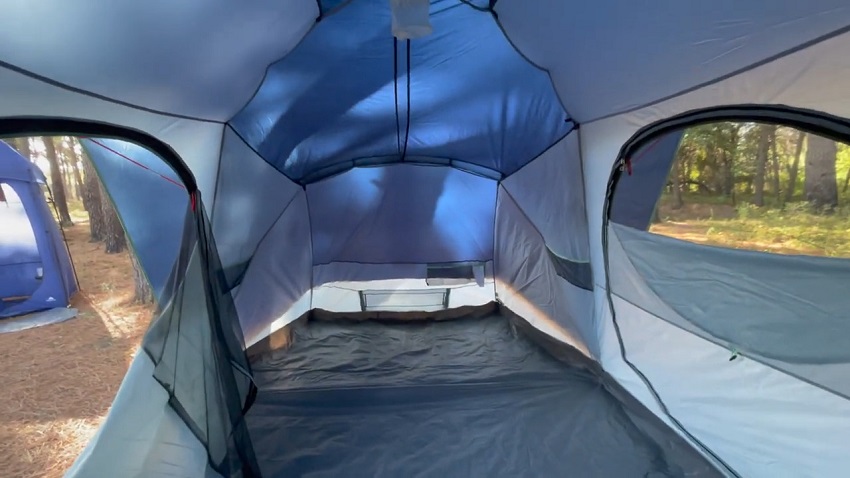 Rooms/Vestibules
Strictly speaking, the 12-Person Skydome XL is a single-room tent. However, it comes with a set of room dividers that lets you split the space into 2 separate rooms. There are also 2 doors in this shelter (one at the front and one at the back) so everyone can enter and exit with ease.
Note that there is no vestibule nor screen room on this tent. So gear storage is limited to whatever you can fit inside the main shelter area. This tent does have fairly large awnings over each door, but these awnings aren't big enough to provide more than a bit of protection from the sun.
Breathability and Ventilation
The 12-Person Skydome XL is comparable to its 10-Person Skydome XL counterpart in terms of its great breathability.
This tent features a full mesh ceiling, which allows for increased airflow at night. If you choose to pitch the tent without its rainfly on a clear evening, it can provide even more ventilation.
In addition to this mesh ceiling, the 12-Person Skydome also has mesh windows on both of its 2 doors. It even comes with large ground vents that encourage air circulation in all weather conditions.
While the 12-Person Skydome doesn't have the same level of breathability as the similar 12-Person Skylodge due to its lack of panoramic windows, it does perform well in most muggy climates.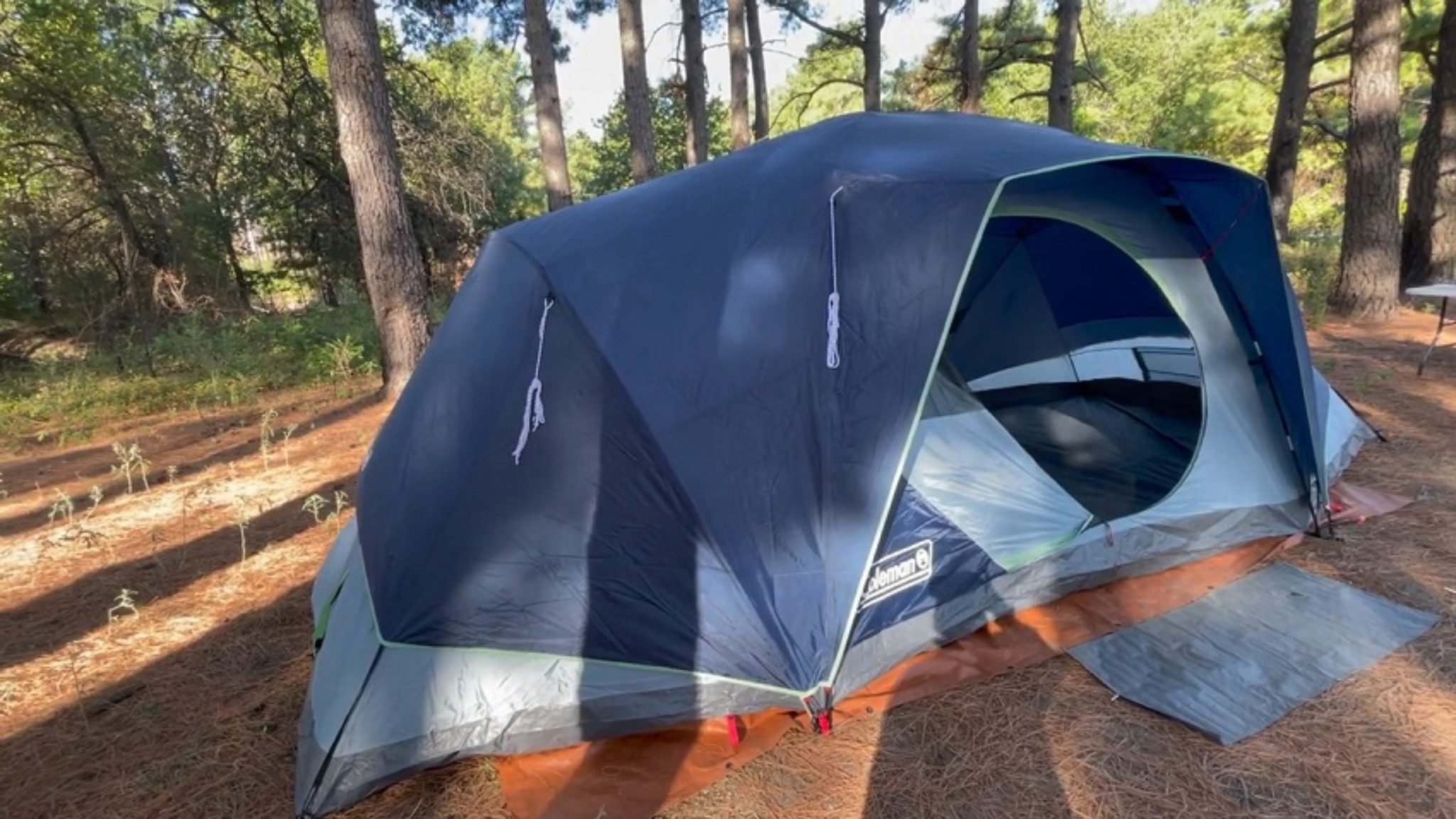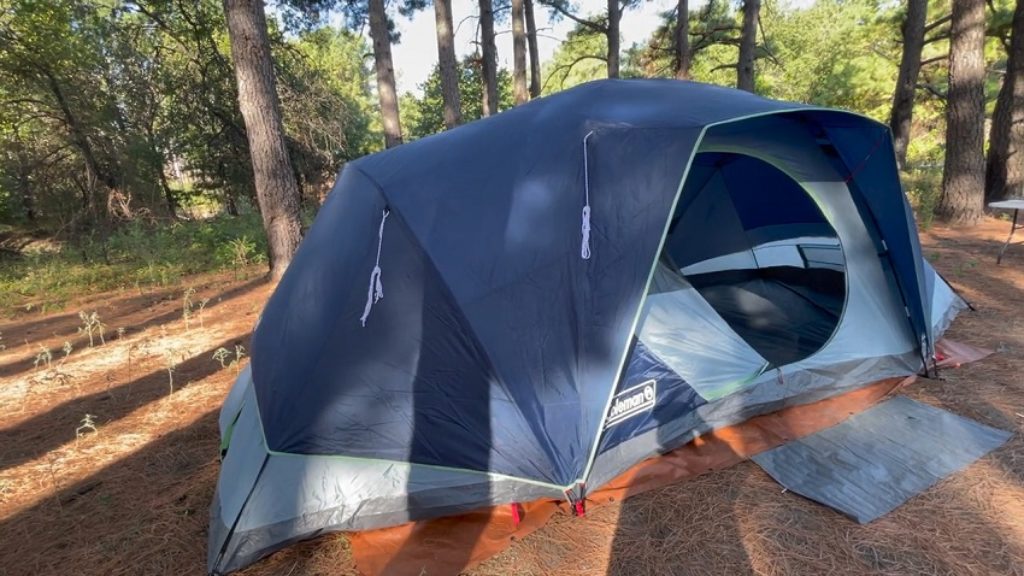 Weather Resistance
As is expected from Coleman, the 12-Person Skydome comes complete with the company's WeatherTec system.
One of the key features of this WeatherTec system is a bathtub-style floor, which the 12-Person Skydome does have. Thanks to this floor, which features welded corners and inverted seams, this tent is well-situated to fend off water that tries to sleep inside your sleeping space. The rainfly on this tent is also fully seam-taped for added waterproofing.
Like the other Skydome XL tents, however, this shelter doesn't have a full-coverage rainfly. For camping trips in dry environments or on fair-weather weekends, this likely won't be an issue. But partial-coverage rainflies usually aren't ideal when foul weather is in the picture.
The last two weather resistance considerations of note with this tent are its fiberglass poles and tall center height.
Coleman uses fiberglass almost exclusively in poles for its car camping tents because it is affordable and reasonably lightweight. The problem is that these poles aren't as durable as aluminum when high winds rip through camp.
The 12-Person Skydome also has a very high center height, which increases the chances that the tent will get damaged in the wind. So this is the type of tent that's best for campground-based trips where you can set up your campsite in a sheltered locale.
Durability
Despite some of the 12-Person Skydome's shortcomings when it comes to weather resistance, the tent itself is fairly durable.
It's made with Coleman's classic 65D polyester taffeta wall and rainfly fabric as well as its 1000D polyethylene floor. Both of these fabrics, and polyethylene, in particular, are durable enough for occasional camping trips. They may not be the most packable fabrics on the market, but they are reasonably puncture and tear-resistant.
The tent's fiberglass poles are a potential durability concern. But if you stick to car camping trips in places where high winds and foul weather aren't common, it's possible to avoid environmental-related wear and tear with this tent.
Finally, keep in mind that this tent has a lot of plastic buckles and clips throughout its construction. Plastic is a popular material because it is light and versatile, but it becomes brittle in cold weather. Take care when handling the plastic components of this tent to avoid damage in the long term.
Ease of Use
The pitching process of the Coleman Skydome 12-Person XL Tent is mostly straightforward, it has a set of pre-attached poles that help you save time when you arrive in camp. At the same time, it has a color-coded system for attaching the rainfly so you can orient the fly properly the first time around.
Most campers will find that they can pitch this shelter in about 5 to 10 minutes with a bit of practice. However, this is the type of tent that generally requires 2 people to pitch it, simply because it has such a high center height. The tent is also non-freestanding, so proper tensioning of the guylines is essential.
Packed Size and Weight
There are no ifs, ands, or buts about it: the 12-Person Skydome is a heavy tent. This tent weighs 40.1 lb (18.2 kg), which firmly places it in the category of being a car camping tent. In many respects, it's too heavy to even bring on a canoe or kayak-based adventure. However, it is slightly lighter than the Coleman Sunlodge 12-Person, which weighs 45.3 lbs (20.5 kg).
The packed size of this tent is arguably much more reasonable. It's approximately 28 x 13 x 13 in (70 x 32 x 32 cm) when packed into its expanding carry case. Although it would be hard to argue that this is a compact size for a tent, for a 12-person shelter, it's certainly reasonable.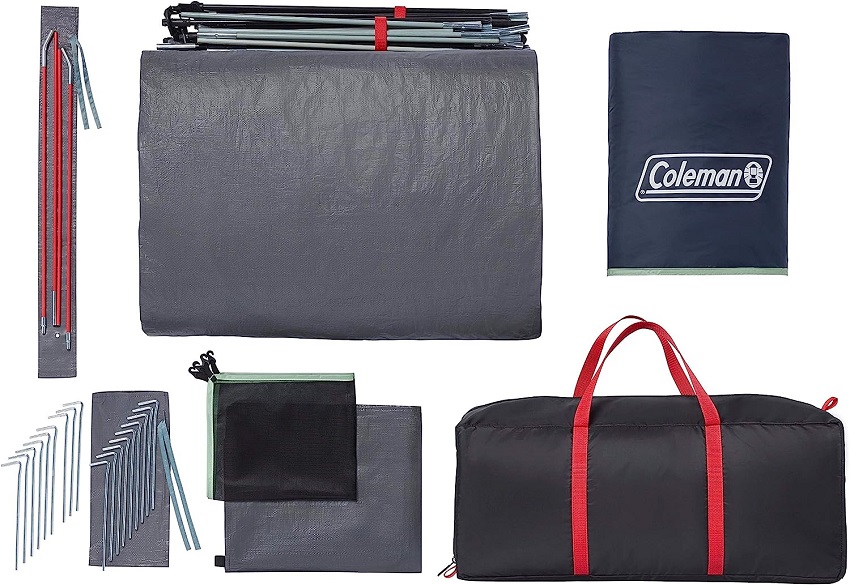 Pros and Cons
Pros
Fairly spacious interior
Includes mesh gear storage pockets
2 large doors for easy entry and exit
Comes with a removable room divider
Mesh windows and vents for breathability
WeatherTec bathtub-style floor
Durable fabric construction
Very tall center height
Cons
Very heavy
Requires 2 people for pitching
Non-freestanding design is tricker to pitch
Rainfly doesn't provide full coverage
Not ideal in the wind
Rating
| | |
| --- | --- |
| Comfort and Space | 8 |
| Weather Resistance | 7 |
| Durability | 7 |
| Ease of Set Up | 7 |
| Size and Weight | 5 |