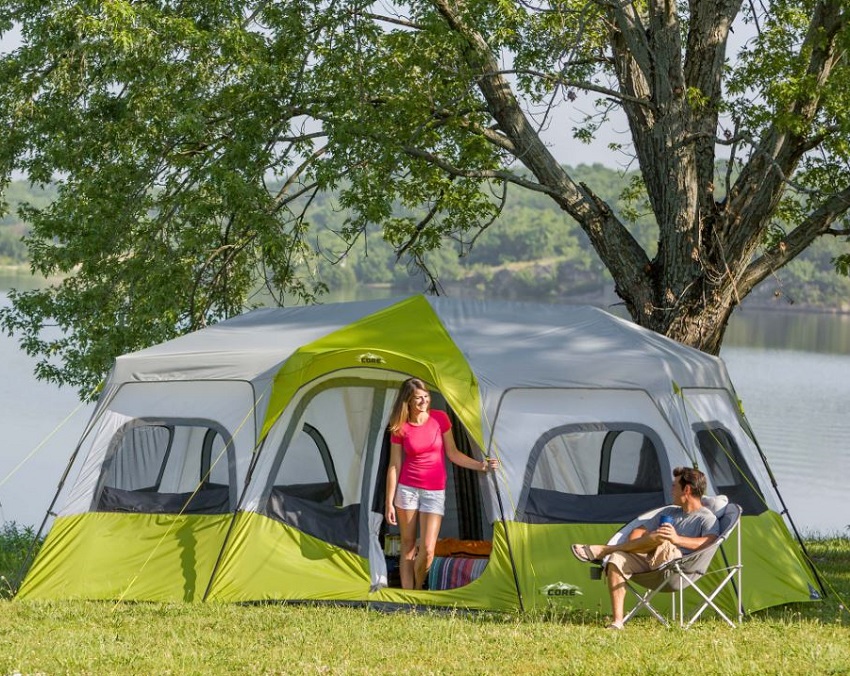 Do your two kids want their own private rooms when you go camping? Do you perhaps have a large family or close friends who camp together? Or do you want an extended camping trip, but with the comforts of home?
A 3-room tent is your answer.
With a 3-room camping tent, you decide how you configure the inside: how many sleeping, living, and storage spaces you have. Better yet, with the door dividers, each room offers campers privacy.
In this article, we look at the 10 best 3-room tents for camping. Plus, we've included a comprehensive buyer's guide with all the features you need to look out for when choosing the best tent for your needs and budget.
As an affiliate of Amazon and other retailers, we may earn a small commission when you buy via our links, at no additional cost to you. Thank you!
Quick Picks: What Are the Best 3-Room Tents for Camping?
In a hurry? Don't worry, here are the 10 best 3-room tents for outdoor camping:
Comparison table: What Are the Best 3-Room Tents for Camping?
WHY TRUST US:
Here at Paddlingspace.com, we spend more time on the water than we do in the office. We paddle, kayak fish, and camp as often as we can, so we know exactly what kayakers and kayak anglers need.
Each year, we independently research, review, and rate the best kayaks, canoes, and paddling gear. Our experts analyze hundreds of products to find out key differences, pros, and cons of each product. We only make money from ads or if you purchase through our links. No sponsored posts or biased reviews here, period.
10 Best 3-Room Camping Tents
Best Overall Tent: CORE 12-Person Instant Cabin Tent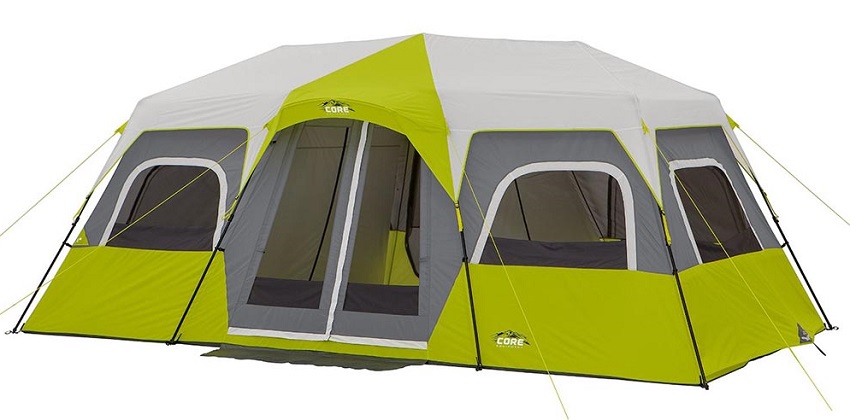 Dimensions: 18' x 10' (5.48 x 3.04 m)
Peak Height: 6.6' (2.01 m)
Doors: 2 (D-shaped and T-shaped tent doors)
Weight: 47.8 lbs (21.68 kg)
Looking for a sizable 3-room tent for all your 3-season camping needs? Then the CORE 12-Person Instant Cabin Tent is it. The freestanding, cabin-style tent has 2 doorways, so you can quickly enter and exit the tent, even when sharing it with your family or friends.
The tent will hold up in windy weather because the poles are made of steel. However, the outer tent fabric is made from durable 68D polyester with a 600 mm hydrostatic rating. Sadly, this means the CORE instant Cabin Tent with Core H20 Block Technology is merely water-resistant, not fully waterproof. The awning also offers some sun protection.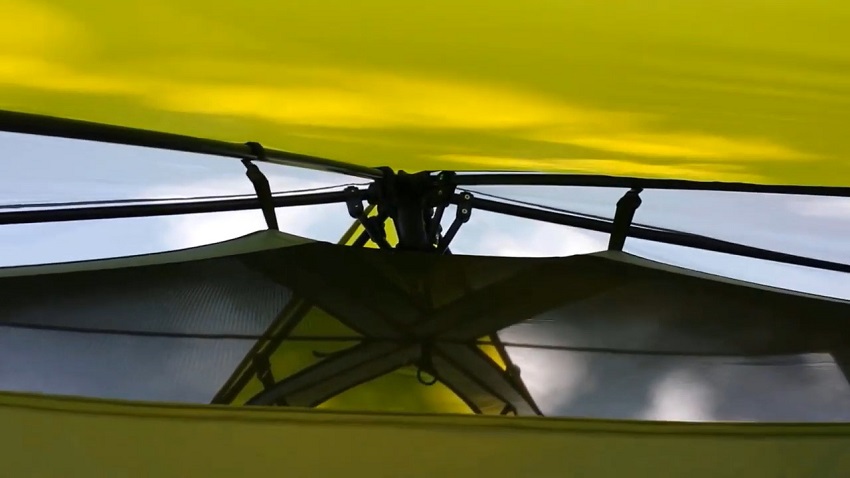 The tent has 2 room dividers, so you can decide whether you want a 1, 2, or 3-room tent to suit your recreational camping or glamping needs.
The rainfly is excellent for those cooler nights or adverse weather conditions. Remove the rainfly to sleep under the stars on warmer nights and enjoy a light breeze. The windows and advanced venting system further increase the ventilation and breathability, so it doesn't feel stuffy inside the tent.
PROS
2-minute pitching with everything you need in a carry bag
Closable e-cord access port 
Loads of breathability and ventilation with doorways, windows, removable rainfly, and vents 
Storage pockets and gear loft to keep your belongings off the floor 
High ceiling so you can move around with ease 
CONS
Heavy to carry if you have to carry your tent and gear over a distance 
Not waterproof, so best for good camping weather 
---
Best Budget Tent: Ozark Trail 10-Person Family Camping Tent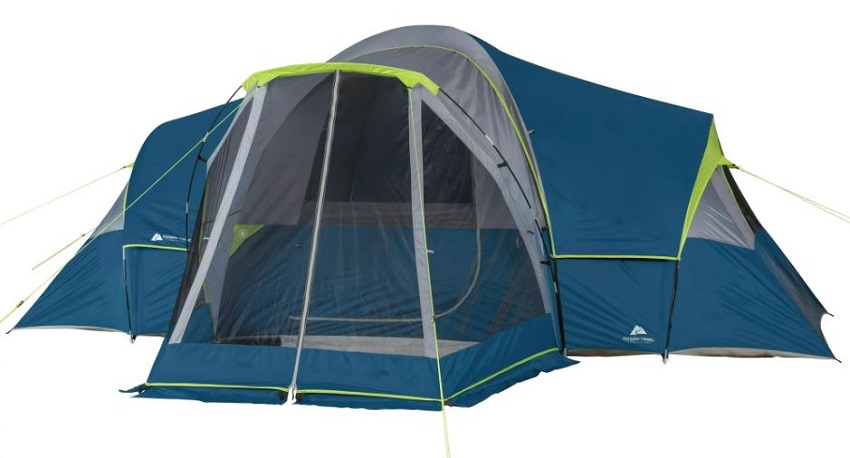 Dimensions: 17' x 8.5' (5.18 x 2.59 m)
Peak Height: 6.6' (2.01 m)
Doors: 2 (1 x tent, 1 x screen porch)
Weight: 25.6 lbs (11.61 kg)
The Ozark Trail 10-Person Family Camping Tent is an excellent buy if you don't have a large budget. The tent works well for recreational camping, glamping, festivals, and picnics with the large communal living area or 3 optional rooms.
The 2 removable room dividers make it easy to set up the tent interior according to what works best for you. And the 30 sq ft (2.78 sq m) porch area adds extra space for gear or to keep the tent bug-free. Plus, the screen porch with the attached mud mat ensures the interior of your tent stays clean since you can remove wet clothes and dirty shoes here before going inside.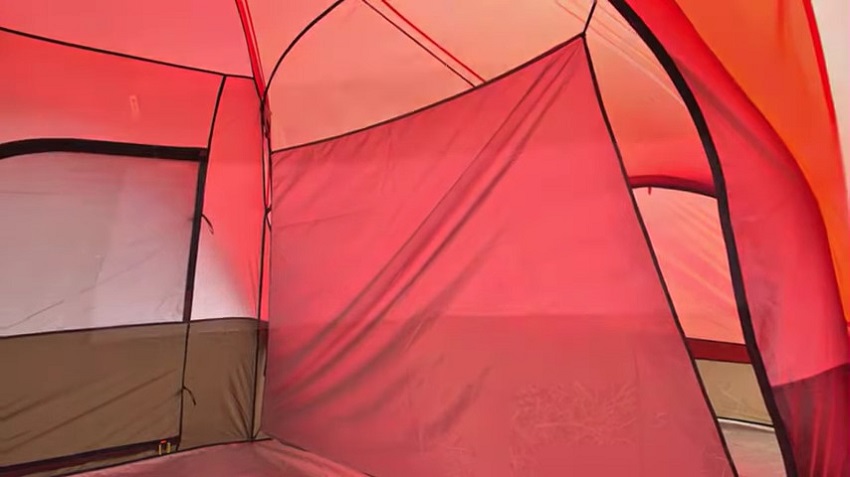 Imagine cloud shapes or enjoy the night sky by removing the rainfly, revealing the entire mesh ceiling, on those hotter days and nights. The removable rainfly, doors, and 3 windows also help increase ventilation and breathability, which is good when sharing your tent with others.
Ozark Trail has fitted the tent with an e-port, gear loft, hanging organizer pockets, and media pocket to add some similar comforts to home. You can run power inside the tent to charge your devices and keep your valuables off the floor.
When it comes to durability, this tent holds up well. It's not entirely as accurate when considering the performance during adverse weather. The fiberglass X-frame and 8 guy ropes help ensure the tent remains stable in light windy conditions. The tent body fabric and rainfly are made of 185T poly taffeta and have a waterproof rating of 600 mm, meaning it's water-resistant. If there's a light shower, your gear will stay dry inside the tent.
PROS
Lightweight enough to carry over a short distance 
Budget-friendly tent 
Interior loop so you can hang your lantern 
Covered porch for added weather protection
Easy set up with the color-coded poles and pole sleeves 
Great ventilation 
CONS
Not fully waterproof; only water-resistant 
Best for normal weather or light wind 
Takes 20 minutes on average to pitch the tent with 2 people 
---
Best Weatherproof Tent: Coleman 8-Person Red Canyon Car Camping Tent

Dimensions: 17' x 10' (5.18 x 3.04 m)
Peak Height: 6' (1.82 m)
Doors: 1
Weight: 22.4 lbs (10.16 kg)
If you are looking for a 3-room tent that's durable and has the best weather protection, go for the Coleman 8-Person Red Canyon Car Camping Tent. The poles are made from fiberglass, but thanks to the slanted tent walls, the tent can withstand strong winds of 40-50 mph.
The rainfly and tent body fabric is double-thick polyester, and the flooring is made of 1000D polyethylene. You benefit from the tent's WeatherTec technology. The tent features patented welded and waterproof tub floors, protected seams, a wind-strong frame, and zipper protection to keep you and your gear dry. The mini awnings further add some protection against the sun.
Use the Coleman 8-Person Red Canyon Car Camping Tent for a weekend or longer camping trips. You can fit 3 queen air mattresses inside and still have a little room for your essentials. The best thing, however, is that you can hang 2 room dividers and configure the tent according to your needs – whether you need 1, 2, or 3 rooms for privacy or have separate living and sleeping spaces.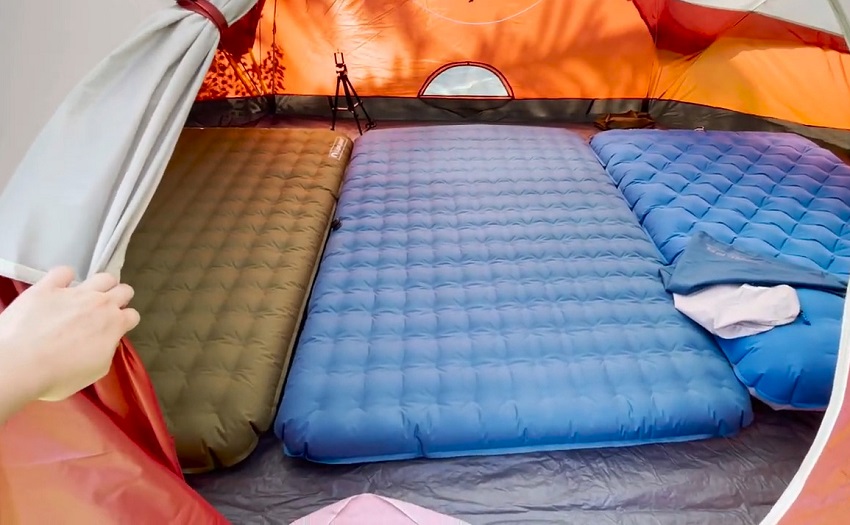 The 6-foot peak height is another win as campers of average height can move comfortably without hunching over and suffering from a sore back and shoulders. The ventilation is great too – you definitely don't want a stuffy and musky-smelling tent. Two windows (one front and one rear), a sizable D-shaped door, a removable partial rainfly, and a Cool-Air adjustable ground port make up the tent's ventilation features.
PROS
Comes in 3 color options: black, blue, and red 
Extremely weather resistant (strong winds, flash floods, or heavy downpours)
The carry bag is extendable, so you can easily fit the tent back inside 
Great breathability and ventilation 
Tall center height 
CONS
Easy to pitch but takes around 15-20 minutes 
Mesh side windows can't close so not ideal if you want privacy in a more public campground 
---
Best Cabin-Style Tent: Ozark Trail 11-Person Instant Cabin Tent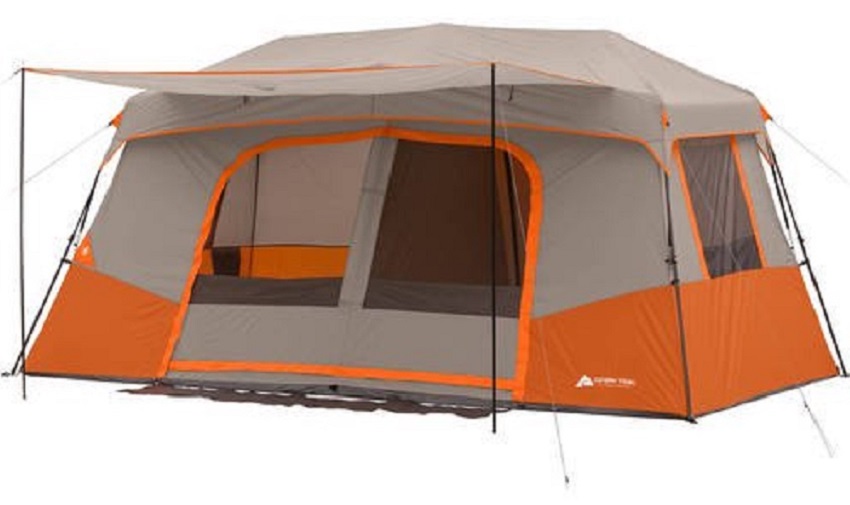 Dimensions: 14' x 14' (4.26 x 4.26 m)
Peak Height: 6.3' (1.92 m)
Doors: 2
Weight: 33 lbs (14.96 kg)
Look no further than the Ozark Trail 11-Person Instant Cabin Tent for an innovative tent design. It's a cabin-style tent that feels like a mini house with its large interior that can be split into two with a room divider.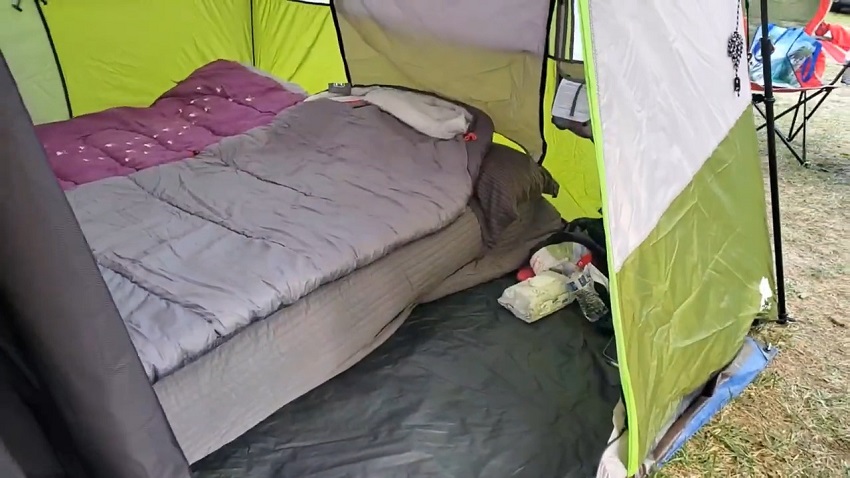 There's also a hidden backroom, and thanks to its dome shape, it feels like a safe cocoon with a removable curtain where you can hang out in peace. The back room can also double as another sleeping space.
The cabin-style tent feels enhanced with the 6.3' (1.92 m) peak height. Since the walls are steep, you don't lose much of the height the further away you move from the center. Tall, short, and average-height campers can quickly move about inside the tent.
Your ventilation needs are taken care of with 6 large mesh windows, a substantial D-shaped door, a back door, a removable rainfly, and a mesh ceiling.
The tent isn't suitable for harsh weather conditions. The waterproof rating is only 600 mm, so it's water-resistant and will be okay in light to moderate rain. Because the tent is tall and has straight walls, the tent can withstand winds of around 20 mph (32.18 kph) despite the steel poles.
PROS
Unique design with the private backroom 
Large front awning so you can sit outside and watch the sunset
Quick and easy 2-minute pitch Quick and easy 2-minute pitch 
Plenty of windows for a great panoramic view 
Good for longer-term camping 
CONS
Not fully waterproof 
Won't withstand high winds 
---
Most Spacious Tent: Ozark Trail 12-Person 3-Room Instant Cabin Tent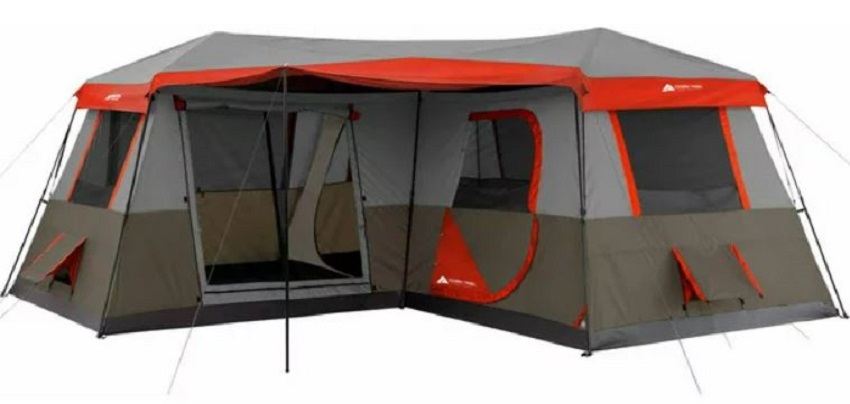 Dimensions: 16' x 16' (4.87 x 4.87 m)
Peak Height: 6.1' (1.85 m)
Doors: 2
Weight: 61 lbs (27.6 kg)
The Ozark Trail 12-Person 3-Room Instant Cabin Tent is a great option if you're looking for a spacious, homey tent. The freestanding L-shape instant cabin tent just works when you have an outdoor family event, want to go camping with your friends, or enjoy a glamping setup.
There are 7 large mesh windows you can close when you want some privacy. Cook outside in comfort or sit and enjoy the views under the big awning. Two room dividers to separate the interior. The rooms are spacious and can fit a queen-sized air mattress and your belongings.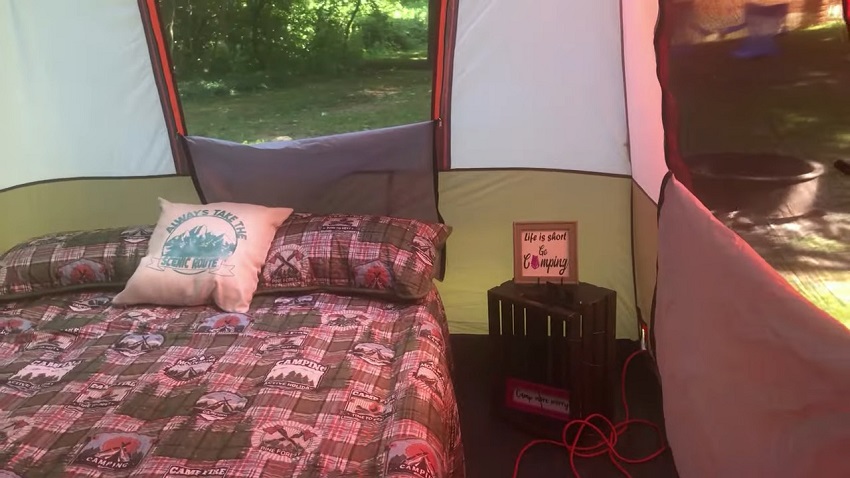 The 2 doors make it easy for everyone to get in and out without one room feeling too crowded. Plus, you can walk fully upright when you are inside the tent.
With the removable rainfly, mesh ceiling, and 2 large ground vents, the inside will stay cool and breezy. But when there's a heatwave or you just get hot quickly, place an air conditioner inside for a cool tent environment.
The tent is water-resistant with its 600 mm waterproof rating. The tent body fabric and rainfly are made of 68D polyester, and the 6" welded tub floor is made from 1000D polyethylene. The steel stakes and poles will ensure the tent stays upright in light to moderate wind.
PROS
Super quick pitching process at 2 minutes 
Can fit an AC in the ground vents for those hot summer days 
Very spacious with a homey-feel 
Large front awning, giving you extra space 
CONS
Heavy to carry, especially if you need to walk far before pitching 
Not suitable for heavy rainfall and strong winds 
---
Best Versatile Tent: Coleman 3-Person & 6-Person Connectable Tent Bundle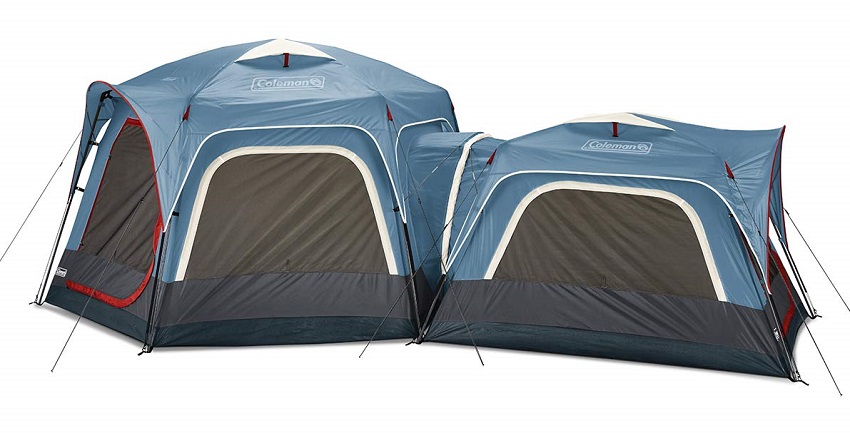 Dimensions: 12' x 10' (3.65 x 3.04 m) for the 6-person tent; 8' x 6' (2.43 x 1.82 m) for the 3-person tent
Peak Height: 6.3' (1.92 m) for the 6-person tent; 4.8' (1.46 m) for the 3-person tent
Doors: 4 for the 6-person tent; 2 for the 3-person tent
Weight: 28 lbs (12.7 kg) for the 6-person tent); 15 lbs (6.8 kg) for the 3-person tent
Desire some versatility? The Coleman 3-Person & 6-Person Connectable Tent Bundle is exactly that, in spades too!
You get a 3-person tent with 1 connection point and a 6-person tent with 3 connection points. Sounds confusing, but it isn't. You can use each tent on its own (so 2 separate tents), or you can join them and have a bigger tent. From the hexagon-shaped 6-person tent, you can connect 3 x 3-person tents, 3 x 6-person, or a combination of 3 and 6-person tents, making your tent structure much bigger. You need to buy more zip-compatible tents as this is just a starter bundle.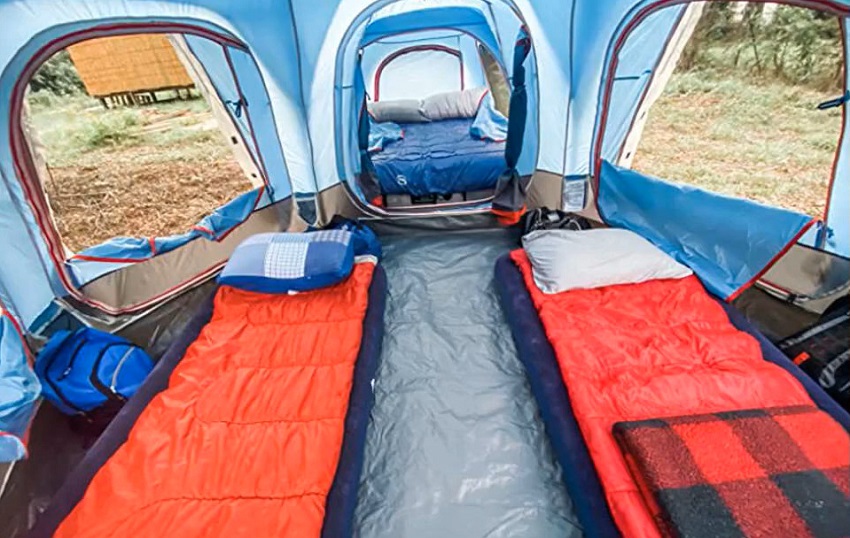 So, yes, you may wonder why this tent is on the list if you can connect an infinite number of tents. The reason? Because the tent is so versatile to meet your 3-room tent needs.
So use this tent for longer-stay camping trips, and you can simply connect more tents as more family and friends join you. And you won't need to worry about privacy as each connection point has "privacy doors."
The tents score high in terms of ventilation and breathability. They have removable rainflies, roof vents, windows, double-layer doors, and mesh ceilings.
Like other Coleman tents, this tent also features WeatherTech with the welded tub floor, inverted seams, and more to keep the rain out. The strong steel frame and fiberglass poles can withstand winds of 35+ mph (56+ kph).
PROS
Unique tent design 
Versatile, so you can use the 6-person tent or add three 3-person or 6-person tents 
Guy lines feature Reflective Illumiline tech, so they are visible at night (no more tripping!) 
Roof vents and large windows increase ventilation
Fast Pitch system makes pitching the tent quicker and easier 
Good for adverse weather 
CONS
Heavy to carry the 2 tents over long distances
Need to pitch each tent and zip it to another to add more rooms 
---
Best Tent with 3 Entrances: Slumberjack Riverbend 10-Person 3-Room Hybrid Dome Tent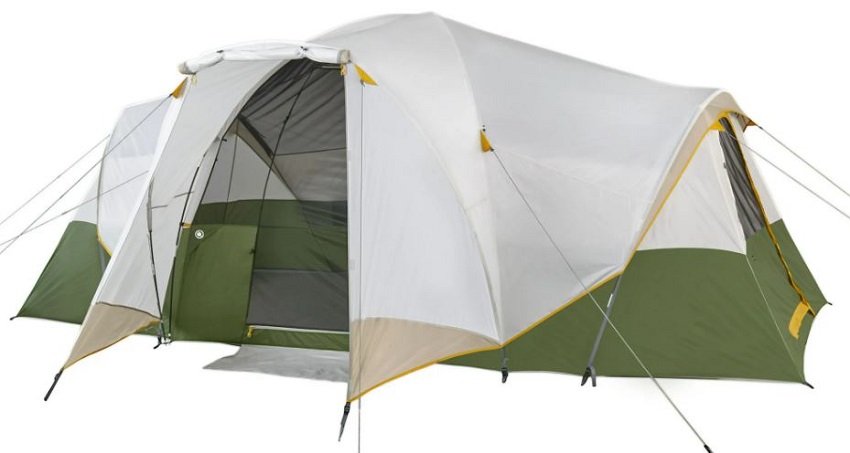 Dimensions: 17' x 10' (5.18 x 3.04 m)
Peak Height: 6.6' (2.01 m)
Doors: 3
Weight: 26.6 lbs (12.06 kg)
Looking for a tent where each of the 3 rooms has its own door? The Slumberjack Riverbend 10-Person 3-Room Hybrid Dome Tent is the best in this category.
The hybrid dome tent provides a spacious interior where you can set up 3 bedrooms or a bedroom, storage space, and living space with 2 room dividers. Each entrance ensures that whoever sleeps in that bedroom has easy access and privacy. The tall center height is suitable for taller people to stand upright; however, you lose some of that height the further you move away from the center of the tent.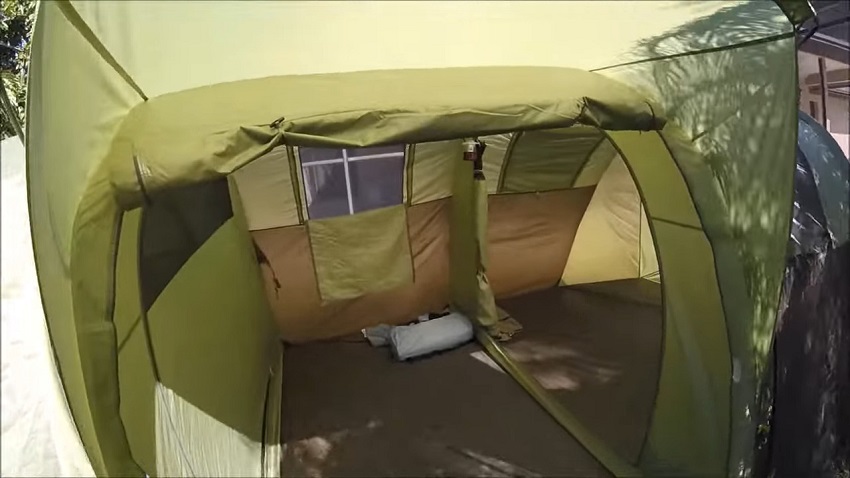 The vestibule area gives you extra space to store your gear, or you can open it to create an awning. Breathability is excellent with the mesh ceiling, removable taped rainfly, and 3 doorways. The mud mat by the "front door" helps ensure that at least 1 room (if you use the dividers) stays clean.
The tent is durable enough with its lightweight aluminum stakes and shock-corded fiberglass poles. The tent has a waterproof rating of 1200 mm, so the tent will withstand light rain showers and remain waterproof.
PROS
3 doors, so there's no thoroughfare like with a 1-door 3-room tent 
Vestibule that can change into an awning 
Color-coded tape on poles makes it easy to pitch the tent 
Comes with an expandable carry bag, making it easy to get the tent back in the bag 
CONS
Only 1 mud mat 
Can only fit 2 queen airbeds if you don't use the room dividers 
Dividers are semi-transparent, so you don't have complete privacy in a room 
---
Best Unique-Shaped Tent: Ozark Trail 16-Person Cabin Camping Tent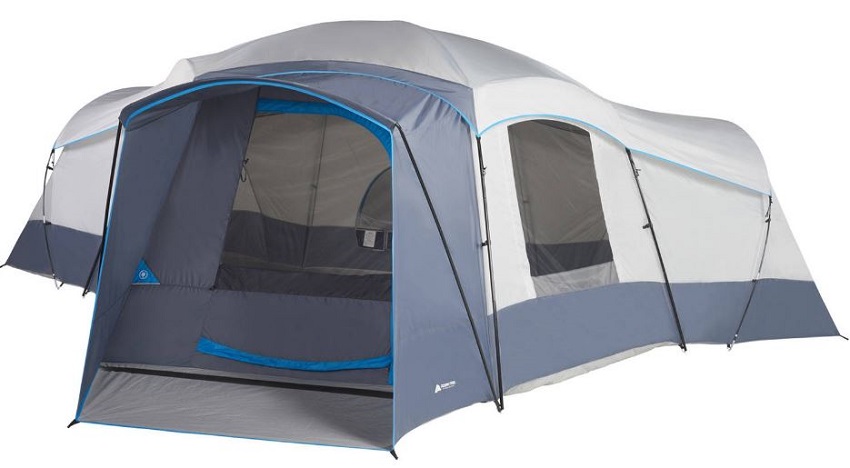 Dimensions: 23.6' x 18.6' (7.19 x 5.66 m)
Peak Height: 6.9' (2.1 m)
Doors: 3
Weight: 48.9 lbs (22.18 kg)
The Ozark Trail 16-Person Cabin Camping Tent has a cathedral-style ceiling and a "fat" y-shape body. You can add the 2 room dividers by the two sides of the "y," so you have a large interior and two smaller areas.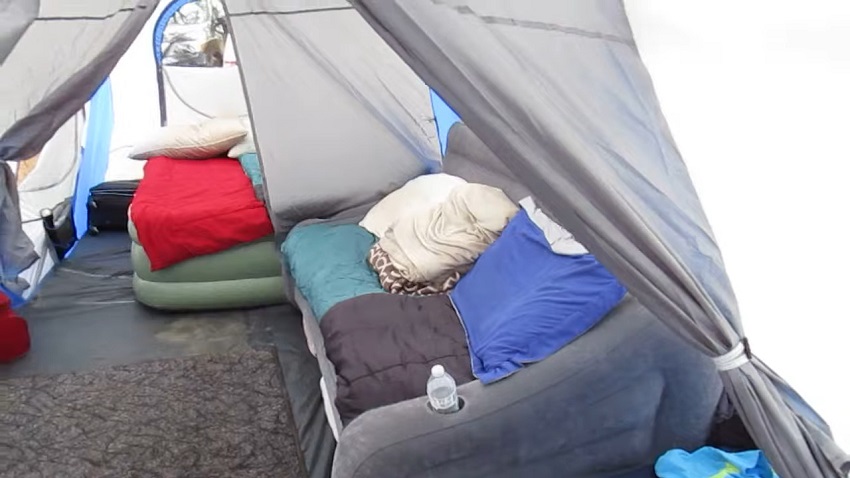 You also have a large covered porch area with a mud mat and drain. Hang out in the porch area, or store some extra gear here.
The tent comes with quite a lot of pockets so you can store your belongings. You get 1 organizer pocket in each side room and 7 in the main room. These storage pockets include 3 large pockets, 3 bottle holder pockets, a media pocket, and a gear hammock.
The tent rates well when it comes to breathability and ventilation. The roof has mesh with the removable rainfly so you can enjoy stargazing. There are also 6 windows and 3 rolldown D-shaped doorways.
The tent body and rainfly are made from 185T poly taffeta, so the tent is durable. Still, the waterproof rating is only 600 mm (aka water resistant, not waterproof). The floor is polyethylene. The frame comprises fiberglass (roof poles) and steel (leg poles).
PROS
Can fit 4 queen air beds with space to move around and store your gear 
3 doors for extra privacy 
Great breathability features
Covered porch 
Unique tent shape with high cathedral ceiling 
Enough storage space 
CONS
20-minute pitch time with 2 people 
Really heavy to lug around, especially over long distances 
Only water-resistant with a minimal rainfly 
---
Most Luxurious Tent: Ozark Trail Hazel Creek 12-Person Cabin Tent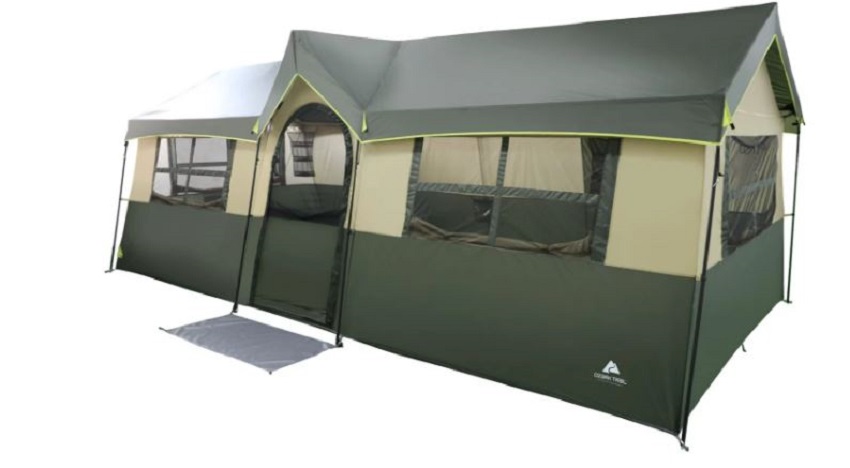 Dimensions: 20' x 9' (6.09 x 2.74 m)
Peak Height: 7' (2.13 m)
Doors: 1
Weight: 65.2 lbs (29.57 kg)
At first glance, the Ozark Trail Hazel Creek 12-Person Cabin Tent looks like a little house. And with all the luxury features, the "little house look" feels right.
The tent features a gable entrance and a steel cabin design, so you know it's durable. All the poles are color-coded, so pitching the tent isn't complicated (but it may take a while if this is your first time setting up a tent).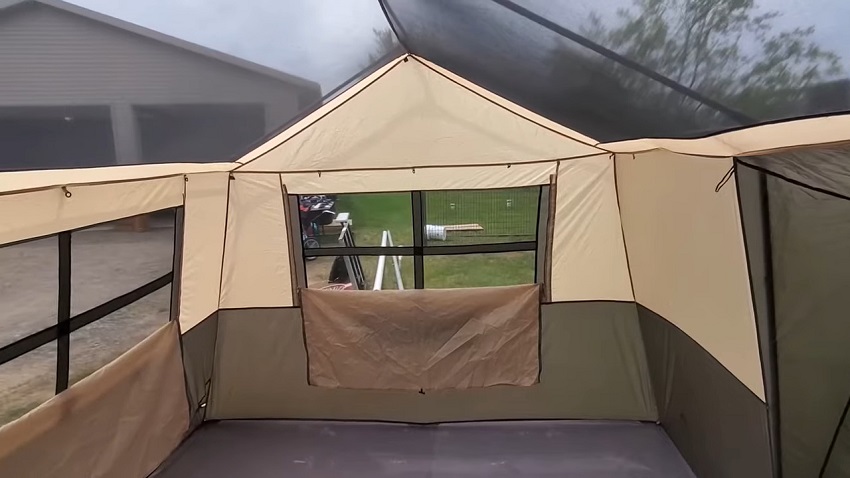 The tent has a hydrostatic rating of 1200 mm, so it works in fair weather and light summer rain. You can do some extra waterproofing, so you know you, your family, and your gear will stay dry in a heavier downpour.
With the 2 room dividers, you can easily create 3 rooms and use the rooms as you need, whether they are sleeping, storage, or living areas. One room divider is silver-coated and has a double function – it provides privacy between 2 areas, and it's a movie screen so you can have a movie and popcorn night.
The e-port makes it easy to power your devices and light inside the tent. Two strings of LED lights hang inside, so you have some light. You just need to buy your own batteries for the lights.
Don't think we forgot to mention ventilation. The tent has 5 windows in total, which have mesh and zippered panels. That's it for breathability.
PROS
2 hanging corner organizers (one of which fits a camping toilet), 2 integrated mesh pockets, and a media pocket 
Movie screen 
Durable structure 
Comes with 2 LED light strings 
Color-coded poles to help you pitch with ease 
CONS
Very heavy to carry around (the heaviest tent on the list!) 
Only 1 doorway so that room will get a lot of throughfare
Need 2 people to pitch the tent 
---
Best Blackout Tent: Decathlon Arpenaz Family Camping Tent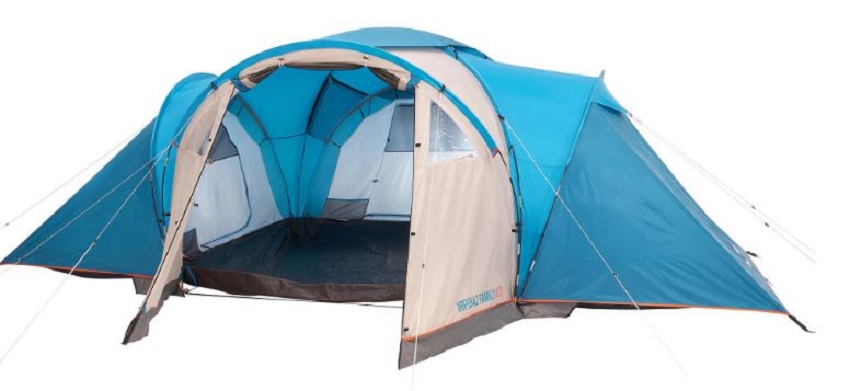 Dimensions: 55.1' x 82.7' (16.79 x 25.2 m) for the bedrooms, 51.7 sq ft (4.8 m sq) for the living area
Peak Height: 5.9' (1.79 m)
Doors: 1
Weight: 35.3 lbs (16 kg)
The Decathlon Arpenaz Family Camping Tent is probably like a 4-room tent, but it features 3 sleeping spaces and a large living area. However, you can use the rooms however you'd like.
The tent is spacious with arches and a basin groundsheet. The sheet can be folded away when it doesn't rain. With the blackout UPF 30 fabric, you can sleep in without a care in the world as only some daylight enters the interior.
The tent is waterproof, as tested with tropical rain in a lab. As such, this blackout tent has a 2000 mm waterproof rating, so you can camp whether it's rain or shine without a worry in the world that you or your gear will get wet. The tent has been tested for wind resistance too, and it remains habitable with winds up to 30 mph (48 kph).
You don't have to worry about ventilation. The tent has 2 transparent shuttered windows, a large fly screen at the door, 2 mosquito nets at the back of the living space, and high ventilation hatches. There's also a ventilated flysheet by the living area to increase airflow and decrease condensation.
PROS
Fully waterproof and highly wind-resistant 
A clothesline, foldaway groundsheet, mosquito nets 
Blackout and sun protection 
Easy pitching with only 5 color-coded poles 
---
A Buyer's Guide to the Best 3-Room Camping Tents: What Should You Consider?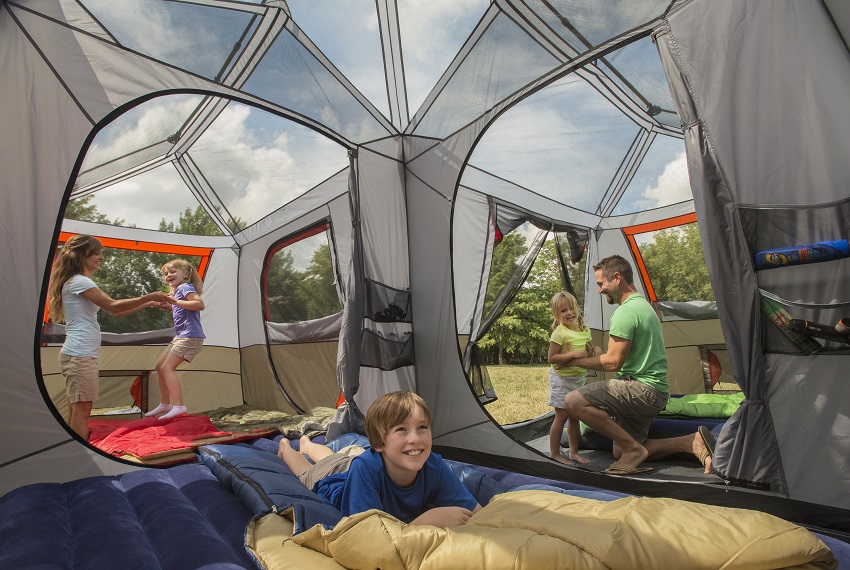 Three-room tents come in all shapes and sizes and have various features you should know about. The best 3-room tent is the one that works best for you in terms of:
How many people are sleeping in the tent?
How many people will spend time inside the tent with you during daylight hours?
How much storage space do you need?
In what weather conditions are you going camping?
In what seasons are you going camping?
Do you need any extras, like light strings, storage pockets, a movie screen room divider, and more?
Do you need a lightweight tent?
Do you want to pitch the tent in 2 minutes flat, or is a 20-minute setup requiring 2 people okay?
How much ventilation and breathability is ideal?
Do you need vestibules and covered porches?
Even if you can't find a 3-room tent that suits ALL your needs, you want to choose one that works for MOST of your needs. You may need to make a priority list and go with the tent that meets those requirements.
Here are all the factors you need to consider regarding 3-room camping tents.
Tent Type and Shape
Three-room camping tents come in various styles and shapes. The most popular shapes and what you need to consider are:
Cabin Tent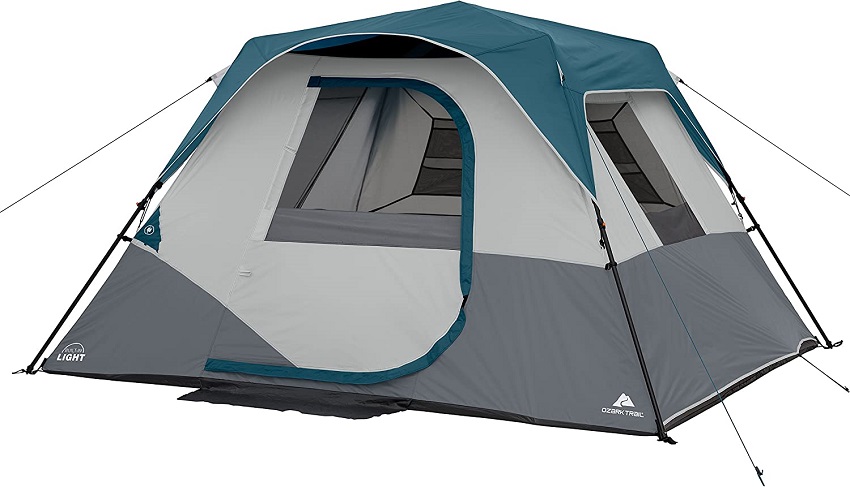 Cabin-style tents work when you go car camping or group camping. The near vertical walls give you a cabin or mini house feel, and the spacious interior and high peak height enhance that "cabin" feeling.
Use a cabin tent for mild weather when there aren't high winds. You also need ample camping space as cabin tents have a large footprint.
Dome Tent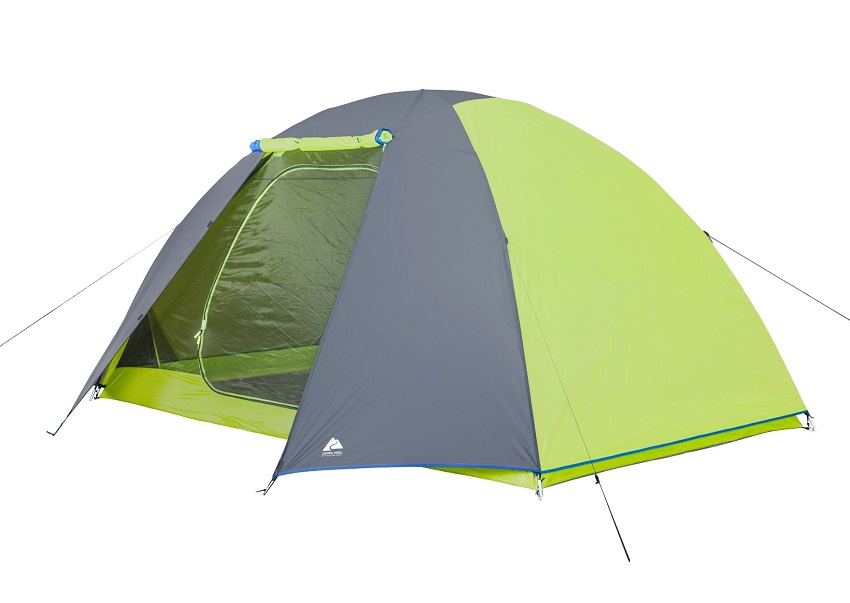 A dome tent is a freestanding structure with poles that cross each other. These tents are good for light to moderate rain or wind, depending on the quality of the tent. The rainfly lets water fall or drip down the sides, while the wind moves over the tent quite easily. But the larger the tent, the better the tent holds up in only good weather conditions.
Dome tents come in various sizes, are easy to set up, and may or may not have a vestibule. They are best for car camping or established campground usage.
Hybrid Dome Tent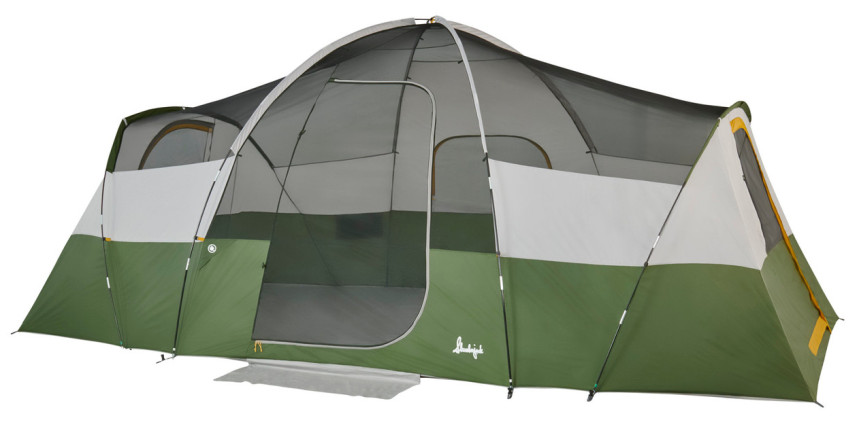 Also called extended or modified dome tents, hybrid dome tents feature crisscrossing poles and curved poles. These curved poles go down the sides of the tent, creating the porch, front vestibule, or extra rooms.
These tents are semi-freestanding and easy to pitch. You have more space and versatility with a hybrid dome-designed tent. However, the slanted roofs take some headspace away, so you may need to slouch when inside.
Use a 3-room hybrid tent for car camping, while a lightweight single-room hybrid is suitable for backpacking too.
Tunnel Tent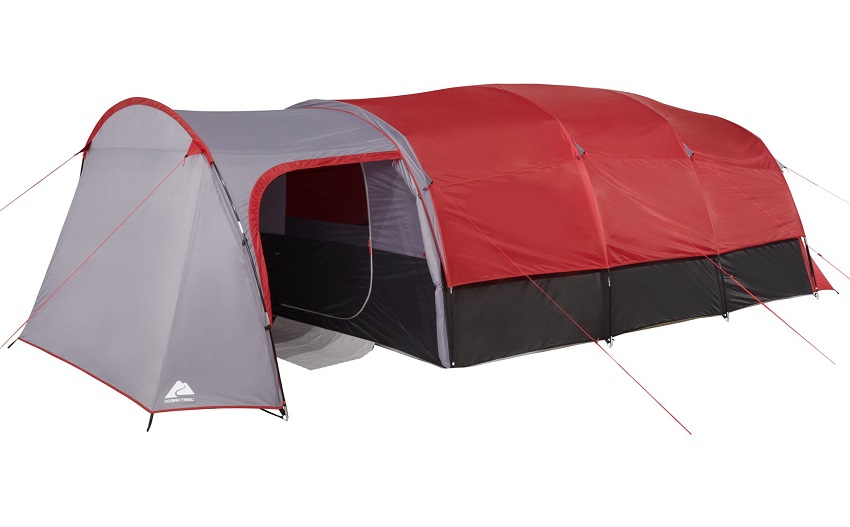 Tunnel tents work for car camping, festivals, or backyard camping events. You generally have more storage space with tunnel tents, and room dividers create extra rooms.
Pitching these tents is relatively easy, but the tent needs to be staked out. So pitch the tent on even ground, not on sandy soil or rocky ground. These tents don't always hold up well in very windy weather, but a plus is the headroom space, as these tents have taller ceilings.
Geodesic or Semi-Geodesic Tent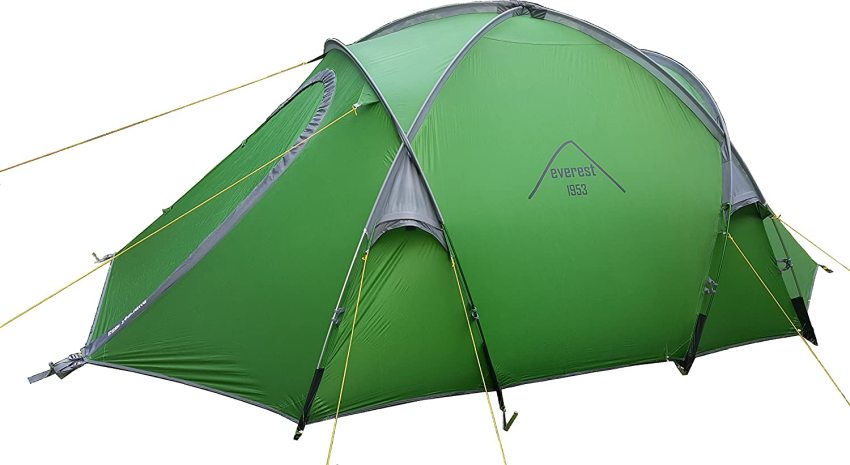 A geodesic tent is similar to a dome tent. However, a semi-geodesic tent has a minimum of 3 crossing poles, and a full geodesic tent has at least 5 crossing poles. They are easy to set up as the poles are color-coded for your convenience.
These tent structures are also strong since more poles mean a more heavy-duty structure that can withstand strong winds. If the tent body fabric has a high enough waterproof rating, the tent will hold up well in heavy rain (and sometimes snow too).
Multi-Room Tent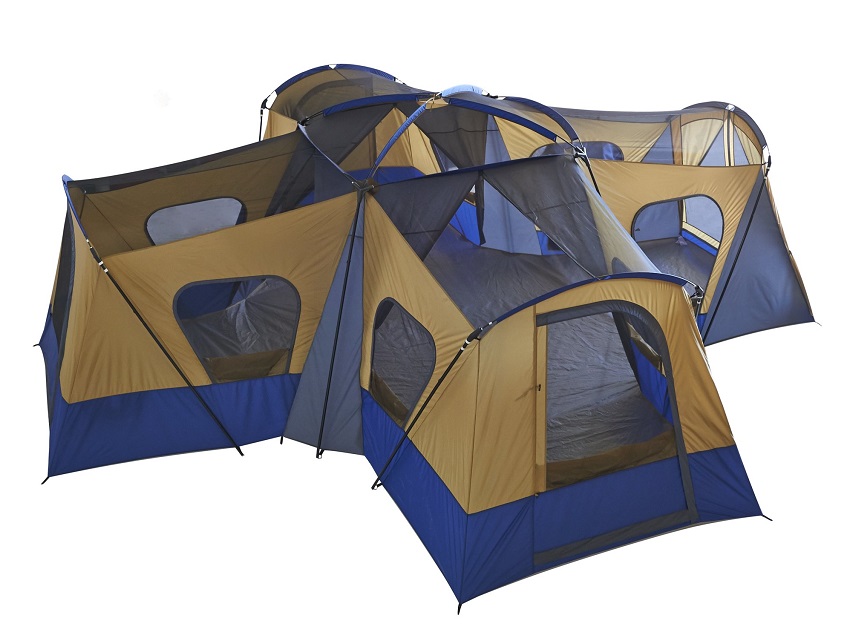 A multi-room tent looks like a mini house, and these tents have room dividers so you can compartmentalize the tent like a house with living and sleeping space or cram in more air mattresses or sleeping pads.
Not all multi-room tents are easy to pitch, and since they are larger, they take up more room at a camping ground. While these tents are spacious, they generally can't withstand very adverse weather.
Space, Comfort, and Peak Height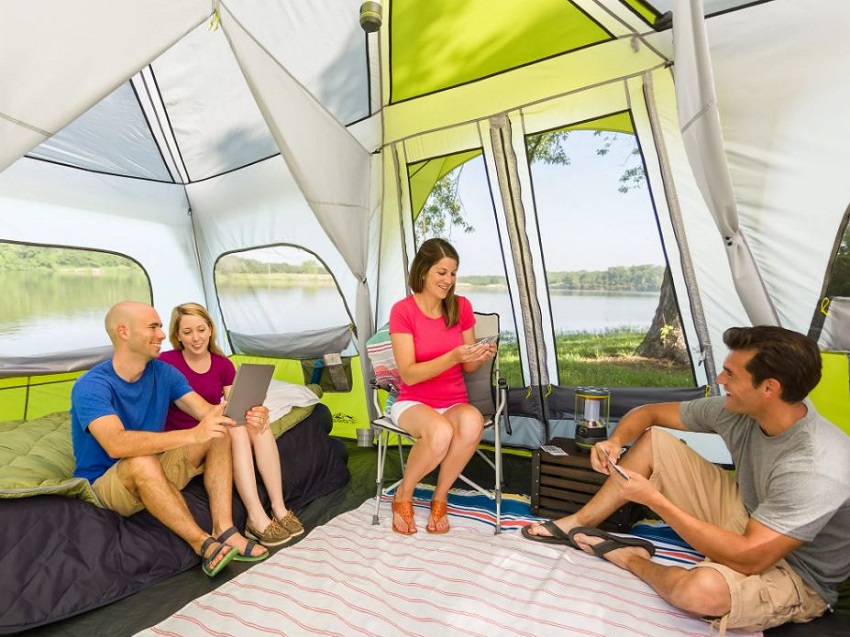 An essential consideration when buying a tent is the space and comfort factor. If you are only camping for a night or two and must host many family members or friends, it's probably not the worst to be crammed inside the tent when you just want sleeping space.
However, suppose you want to store your gear (more than just the bare essentials) and want space to breathe. In that case, you want to find the balance between having enough room inside the tent to breathe, store gear, and sleep as many people as possible.
When looking at a tent's space, consider the tent's dimensions (that's the length, width, and height).
What's the total floor area? Is that all interior space, or is some of it part of the screen porch or vestibule?
What's the peak height? Can you walk upright and move around with ease? Will your head bump against the ceiling, or do you need to hunch over (and then deal with back and neck pain)?
On average, work on 20 sq ft (1.85 sq m) per person for sleeping space and 30 sq ft (2.78 sq m) if you want both living and sleeping space per person. If you have a 3-room tent with a total floor space of 170 sq ft (15.79 sq m) and work on 30 sq ft per person, the tent can host 5-6 people.
A peak height of 6' (1.82 m) is all good and well, but with a dome-shaped tent, you lose quite a bit of headroom the closer you are to the tent walls. This means people will need to hunch over in those areas. But that isn't a big deal if you only camp for a night or two and use the tent for sleeping and cover purposes. Living in the tent for an extended period means you'd want to move comfortably throughout the tent. Then, a higher peak height is better.
Durability
You'd be mighty frustrated investing in a 3-room tent only to find the zippers break or a light wind tore through the tent after only one camping trip. Right?
Ideally, you want a tent that is seam-sealed and has double-stitched seams. Polyester is a popular tent body and rainfly fabric. It is low-maintenance, offers excellent ventilation, and can be waterproof when coated with polyurethane.
Other tent body materials include:
Nylon, which is more waterproof (when treated with silicone) and sturdier than polyester
Canvas, which offers the best insulation and regulates temperatures
The material of the frame and poles also matter:
Steel or aluminum poles are stronger and more durable than those made from fiberglass.
However, fiberglass poles don't conduct electricity. If there's thunder, you'll be safe inside the tent.
Aluminum poles are lightweight, and if they snap, they can be repaired.
Steel poles and fiberglass are heavier, but steel offers more structural strength and increases the tent's durability, especially in bad weather.
Seasonality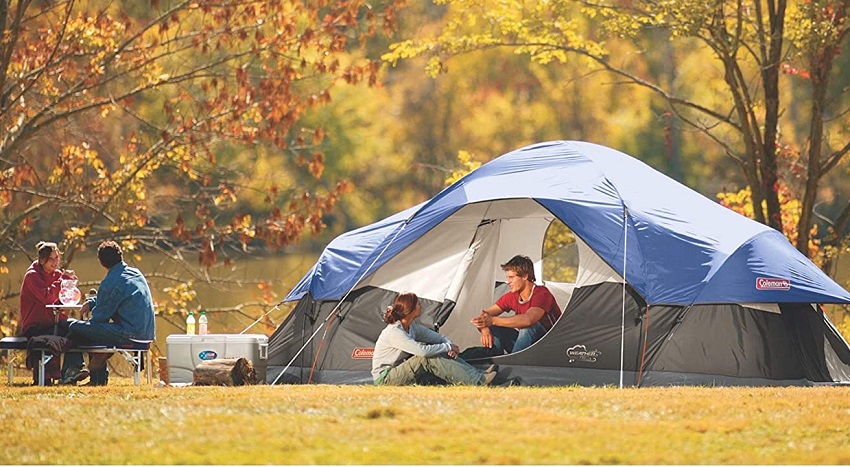 Suppose you only go camping or need the tent for festivals or family gatherings when it's summer or spring. In that case, you don't need a tent suitable for colder weather conditions.
A 3-season tent is ideal for fall, spring, and summer, while a 4-season tent can be used in winter too. A 3+ season tent is fine for mild winter, not for severe cold.
All of the 3-room tents on our list are ideal for 3 seasons.
Weather Resistance
Imagine going camping, and it's a wonderful trip. But then there's a downpour, so you and your loved ones rush inside the tent for cover. Drip… drip… drip. You look up, and water droplets from the rain are seeping through the tent fabric. Pretty soon, everyone and everything you've stored inside the tent is sopping wet.
Yip, not great.
As such, weather resistance is an essential factor to keep in mind. You don't need a highly durable and waterproof tent if you live in a dry climate with light summer or spring rain.
Tents come with a waterproof or hydrostatic rating:
Under 1000 mm: the tent is water resistant.
1000 mm: the tent holds up well in light rain.
1500 to 3000 mm: the tent can withstand moderate to heavier rainfall.
3000 mm and above: the tent is rated for 3+ or 4 season use; waterproof enough for snowfall and heavy rain.
Opt for a full rainfly if you are expecting rain. A partial rainfly doesn't provide as much water resistance or waterproof coverage since there are gaps between the rainfly and walls or windows where water can seep through.
Weight and Portability
In general, 3-room camping tents aren't made for backpacking or hiking. Ideally, you want to pitch the tent not far from your vehicle because these 3-room tents tend to be quite heavy.
While all of the 3-room tents on our list come with a carry bag, it isn't always so easy carrying a heavy tent (especially if you are on the shorter side).
Ventilation and Breathability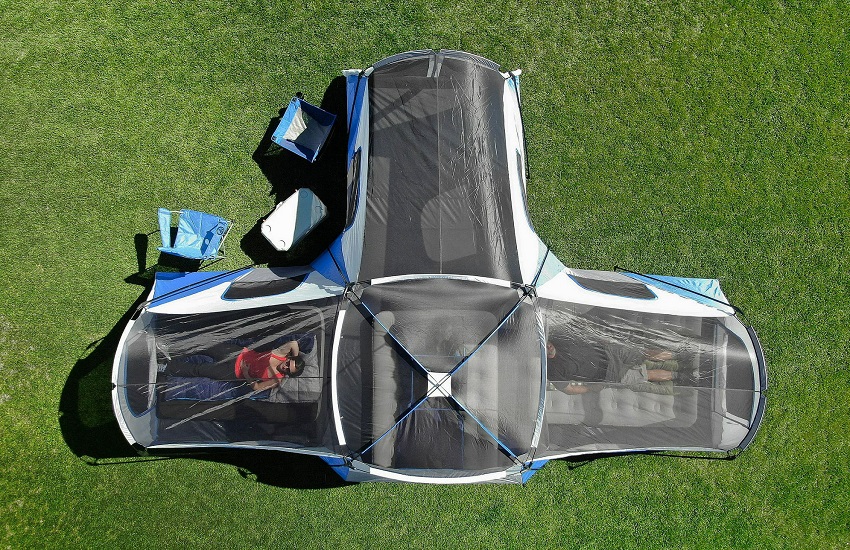 A stuffy tent is yucky, and if you are sharing your tent with more than 2-3 people, stuffiness is the last thing you want. So ventilation and breathability are paramount.
Tents offer various ventilation features:
A removable rainfly
A mesh ceiling
Doors that can be partially or fully unzippered
Mesh windows that can be zippered to provide protection from the elements but also allow airflow
Air vents – can be situated on the ceiling, ground, or walls
Mesh panel by the door if there's a covered porch
Porch Area, Vestibules, and Extended Awning
Some 3-room tents have vestibules or a covered porch area. Tents may also feature an extended awning for shade, storage space, or a place to chill.
These areas let you:
Take off wet clothes and shoes, which help keep the tent interior clean (and dry)
Eat your meals outside
Cook outside – but be careful with open flames
Store your extra gear
Relax with a camping chair and enjoy the view
Number of Doors and Windows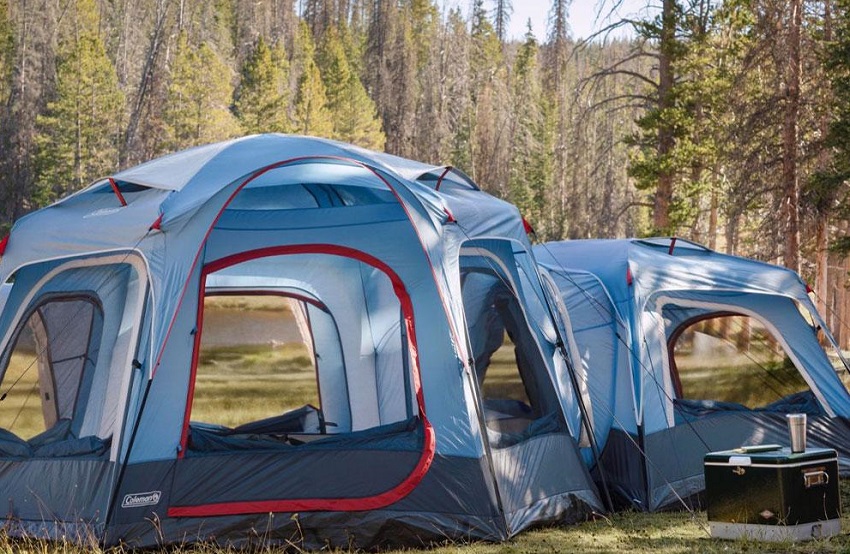 Every tent has at least 1 door, but more doors are simply better when you buy a 3-room camping tent. Why? Well, if each of the 3 spaces is a "bedroom," campers can come and go as they please without stepping on others or invading someone else's privacy. It's simply a win-win-win (because there are 3 rooms) situation.
You also want to ensure there's at least 1 large door so you can easily carry your gear inside the tent.
Windows allow light and airflow to enter the space and provide a scenic view. You want to ensure the windows have a mesh panel to keep pesky mosquitos and other bugs away and a zippered cover panel for privacy. Ideally, you'd wish to have 1 window per room unless there is a doorway.
Storage Space
Camping a distance away from your car and not having space inside the tent to store your gear doesn't equate to a pleasant camping trip. You'll need to run back and forth to fetch what you need, and if you are a little forgetful, you'll need to make even more trips.
Decide what gear you need with you inside the tent. This could be clothing, your devices, and other personal effects. There should be space to store at least these essentials, while the tent should also provide enough room for your air mattress, sleeping pad, or air bed.
Many tents these days offer various ingenious built-in storage solutions. Look for:
A media pocket to store phones or a tablet
Hanging organizers with pockets
A gear loft or hammock
Hanging corner organizers
Integrated mesh pockets
Privacy, Removable Room Dividers, and Versatility
When you buy a 3-room tent, you want the extra room for storage and living space. Or you want to put up room dividers to create privacy between the areas – no matter what these rooms are used for. The advantage of removable room dividers is versatility; you can use and set up the tent in a way that works for you!
A mesh room divider delineates rooms but doesn't offer much in terms of privacy. A solid room divider that fully "seals off" a room is better because it ensures the extra space is entirely private.
Ease of Pitching and Take Down
No one should require a degree to figure out how to pitch a tent. Luckily, it won't come to that. Some 3-room tents are super easy to pitch, while others are still easy, but it just takes longer because of how the tent is designed and how big it is.
Plus, manufacturers want to make the pitching process as easy as possible for you. So many tents feature color-coded poles, instructions sewn into the carry bag, and official videos that show you what you need to do to set up the tent.
The tents on our list range from instant tents that typically have a 2-minute pitch to average tents that take around 20 minutes to pitch.
Remember: It'll take longer the first couple of times you pitch the tent, and as you become more experienced, it'll go much faster.
Price
We all have budgets we need to work within, and while a fancy tent is what your heart desires, your bank manager won't be impressed.
It's best to balance a couple of factors when buying a 3-room tent:
What you can actually afford
What are your needs, and which tent best meets these
What extras do you get with the tent within your budget range
Consider these factors, and you'll know which tent is best for you.
Psst… The 3-room camping tents here range from around $100 to $500. If you don't need a tent now, wait until it's discounted, or buy it on Black Friday or Cyber Monday.
Extra Features and Accessories
Tents sometimes come with extra features and accessories. Here are some of these, but you need to consider what's essential and what's nice to have:
Battery-operated LED string lights
Interior loop to hang a lantern
A silver-coated room divider that acts as a projector screen for a movie
E-cord access port
Extendable carry bag or one on wheels
Large side wall vents to fit an AC
Double layer or roll down doors and/or windows
Mud mat at every door
Vestibule that can change into a large awning
UPF (ultraviolet protection factor) protection
Blackout tent fabric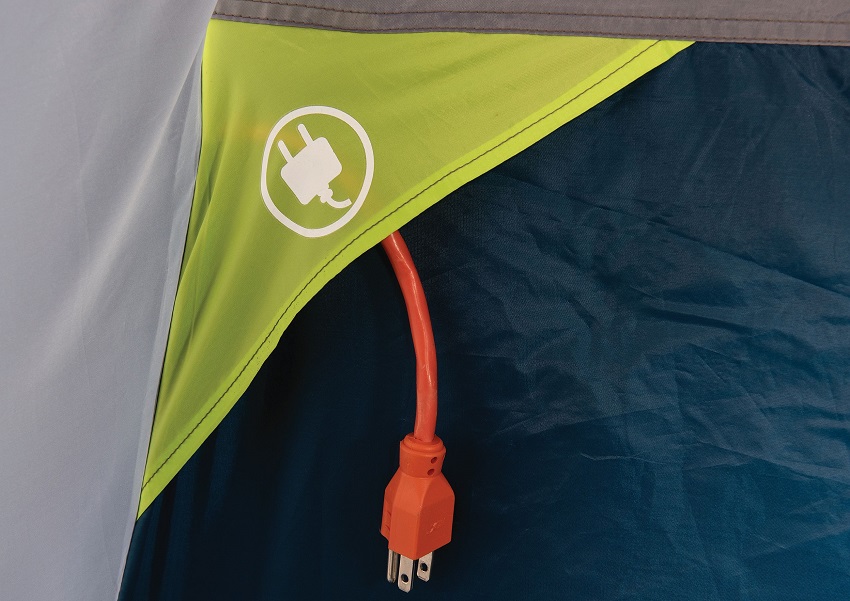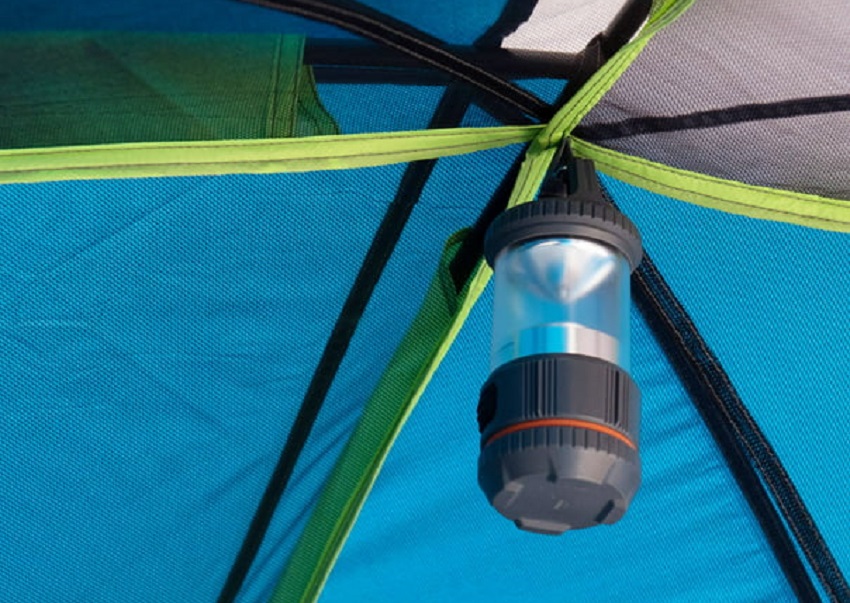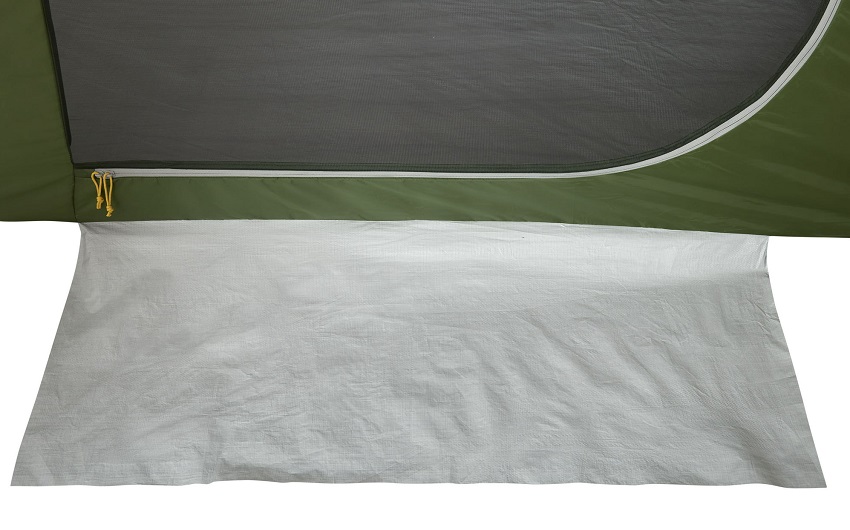 3-Room Tent FAQs
When do you need a 3-room camping tent? 
You need a 3-room camping tent when you have a large family or when you want to go camping with close friends. A 3-room camping tent is also good for 2-3 people since you have more space for storing gear and a separate living area. These tents also provide privacy with the room dividers. 
Are 3-room tents easy to set up? 
Three-room tents are generally easy to set up. The tents feature color-coded poles, instructions sewn into the carry bag, and even instant pitching designs that make it quick and easy to set up the tent. Setup times vary between a quick 2 minutes to 20 minutes (or longer). 
Is a 3-room tent easy to carry? 
Most 3-room camping tents come in a carry bag that you can carry around relatively quickly. Some bags also have wheels, making moving the tent from your vehicle to the camping ground even easier. 
Is there enough storage space in a 3-room camping tent? 
How much storage space there is in a 3-room tent depends on the configuration of the tent's interior, the size of the tent, and how many people are sleeping there. Some 3-room tents are small and can fit 2-3 queen airbeds and essential gear. Other tents offer plenty of storage and sleeping space. 
Can you go backpacking or hiking with a 3-room tent? 
You can't go backpacking or hiking with a 3-room tent as the tent carry bags are generally too large. Plus, the tent and everything needed to pitch it is quite heavy, ranging from about 22 to 61 pounds (9.97 to 27.6 kg), to carry over a long distance.